Character name: Hiruzen Sarutobi

Hiruzen Sarutobi (猿飛ヒルゼン) was the Third Hokage (三代目火影, Sandaime Hokage; Literally meaning "Third Fire Shadow"). Together with Homura Mitokado and Koharu Utatane, he was the student of the first two Hokage, Hashirama Senju and Tobirama Senju, and the teacher of the Sannin Jiraiya, Tsunade, and Orochimaru.
Playable: Yes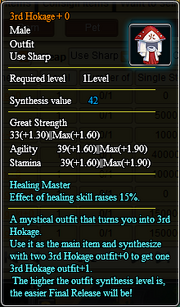 Gender: Male
Outfit: Orange
Weapon: Sharp
Specialty: Healing
Stats
Great Strength: 33 (+1.30) || Max (+1.60)
Agility: 39 (+1.60) || Max (+1.90)
Stamina: 39 (+1.60) || Max (+1.90)
14 points of Great Strength increases 1% Attack and 1 point of Block.
10 points of Agility increases 1% Speed and 1 point of Dodge.
9 points of Stamina increases 1% HP and Chakra.
Skill: Healing Master
Healing skills effects increase 15%
Pockie Ninja Outfit Stat Sheet
Great Strength Agility Stamina
Suit Level +0: ║ 33 ║ 33 ║ 39 ║
Suit Level +1: ║ 46.2 ║ 46.2 ║ 54.6 ║
Suit Level +2: ║ 59.4 ║ 59.4 ║ 70.2 ║
Suit Level +3: ║ 72.6 ║ 72.6 ║ 85.8 ║
Suit Level +4: ║ 85.8 ║ 85.8 ║ 101.4 ║
Suit Level +5: ║ 99 ║ 99 ║ 117 ║
Suit Level +6: ║ 112.2 ║ 112.2 ║ 132.6 ║
Suit Level +7: ║ 125.4 ║ 125.4 ║ 148.2 ║
Suit Level +8: ║ 138.6 ║ 138.6 ║ 163.8 ║
Suit Level +9: ║ 151.8 ║ 151.8 ║ 179.4 ║
Suit Level +10: ║ 165 ║ 165 ║ 195 ║
Suit Level +11: ║ 178.2 ║ 178.2 ║ 210.6 ║
Suit Level +12: ║ 191.4 ║ 191.4 ║ 226.2 ║
Suit Level +13: ║ 204.6 ║ 204.6 ║ 241.8 ║
Suit Level +14: ║ 217.8 ║ 217.8 ║ 257.4 ║
Suit Level +15: ║ 231 ║ 231 ║ 273 ║
Suit Level +16: ║ 244.2 ║ 244.2 ║ 288.6 ║
Suit Level +17: ║ 257.4 ║ 257.4 ║ 304.2 ║
Suit Level +18: ║ 270.6 ║ 270.6 ║ 319.8 ║
Suit Level +19: ║ 283.8 ║ 283.8 ║ 335.4 ║
Suit Level +20: ║ 297 ║ 297 ║ 351 ║
Suit Level +21: ║ 310.2 ║ 310.2 ║ 366.6 ║
Suit Level +22: ║ 323.4 ║ 323.4 ║ 382.2 ║
Suit Level +23: ║ 336.6 ║ 336.6 ║ 397.8 ║
Suit Level +24: ║ 349.8 ║ 349.8 ║ 413.4 ║
Suit Level +25: ║ 363 ║ 363 ║ 429 ║
Suit Level +26: ║ 376.2 ║ 376.2 ║ 444.6 ║
Suit Level +27: ║ 389.4 ║ 389.4 ║ 460.2 ║
Pockie Ninja Outfit Stat Sheet
| Level | Great Strength | Agility | Stamina |
| --- | --- | --- | --- |
| +0 | | | |
| +1 | | | |
| +2 | | | |
| +3 | | | |
| +4 | | | |
| +5 | | | |
| +6 | | | |
| +7 | | | |
| +8 | | | |
| +9 | | | |
| +10 | | | |
| +11 | | | |
| +12 | | | |
| +13 | | | |
| +14 | | | |
| +15 | | | |
| +16 | | | |
| +17 | | | |
| +18 | | | |
| +19 | | | |
| +20 | | | |
| +21 | | | |
| +22 | | | |
| +23 | | | |
| +24 | | | |
| +25 | | | |
| +26 | | | |
| +27 | | | |