| | |
| --- | --- |
| | This page is a Featured Article!. This means it is listed under "Featured Articles" on the Main Page! |
Sōsuke Aizen is the former captain of the 5th Division in the Gotei 13; he later leaves Soul Society with his followers, Gin Ichimaru and Kaname Tōsen. His lieutenant was Momo Hinamori. He was the main antagonist of the series in the first half.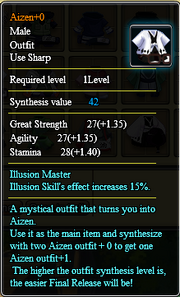 Stats
Great Strength: 27(+1.35) BMV=26.55
Agility: 27(+1.35) BMV=26.55
Stamina: 28(+1.40) BMV=27.53
Stats Effect:
12 points of Great Strength increases 1% Attack and 1 point of Block.
12 points of Agility increases 1% Speed and 1 point of Dodge.
12 points of Stamina increases 1% HP and Chakra.
Skill: Illusion Master expert
Illusion skills effects increase 15%
Aizen Stat Sheet
Edit
| Level | Great Strength | Agility | Stamina |
| --- | --- | --- | --- |
| +0 | 27 | 27 | 28 |
| +1 | 37.8 | 37.8 | 39.2 |
| +2 | 48.6 | 48.6 | 50.4 |
| +3 | 59.4 | 59.4 | 61.6 |
| +4 | 70.2 | 70.2 | 72.8 |
| +5 | 81 | 81 | 84 |
| +6 | 91.8 | 91.8 | 95.2 |
| +7 | 102.6 | 102.6 | 106.4 |
| +8 | 113.4 | 113.4 | 117.6 |
| +9 | 135 | 135 | 140 |
| +10 | 124.2 | 124.2 | 128.8 |
| +11 | 145.8 | 145.8 | 151.2 |
| +12 | 156.6 | 156.6 | 162.4 |
| +13 | 167.4 | 167.4 | 173.6 |
| +14 | 178.2 | 178.2 | 184.8 |
| +15 | 189 | 189 | 196 |
| +16 | 199.8 | 199.8 | 207.2 |
| +17 | 210.6 | 210.6 | 218.4 |
| +18 | 221.4 | 221.4 | 229.6 |
| +19 | 232.2 | 232.2 | 240.8 |
| +20 | 243 | 243 | 252 |
| +21 | 253.8 | 253.8 | 263.2 |
| +22 | 264.6 | 264.6 | 274.4 |
| +23 | 275.4 | 275.4 | 285.6 |
| +24 | 286.2 | 286.2 | 296.8 |
| +25 | 297 | 297 | 308 |
| +26 | 307.8 | 307.8 | 319.2 |
| +27 | 318.6 | 318.6 | 330.4 |