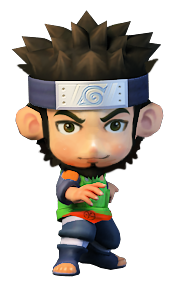 Character Name: Asuma Sarutobi
Asuma is a teacher in Naruto. He is a part of team Asuma which is made up of Shikamaru Nara, Ino Yamanaka and Choji Akimichi. He is a part of the Sarutobi clan. His father, being the Third Hokage ( Hiruzen Sarutobi ). His other relatves such as brother or sister are unknown. However, he has a nephew.( Konohamaru ). Later on in Shippuden, Asuma coupled up with Kurenai and she is currently carrying his child. Asuma met his death at the hands of Hidan in Shippuden.
Playable : Yes
Gender:
Male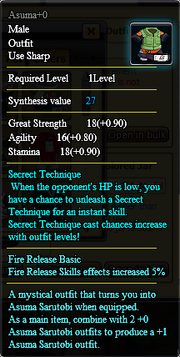 Outfit: Grey
Weapon: Sharp
Specialty: Fire
Stats
Great Strength: 18 (+0.90)
Agility: 16 (+0.80)
Stamina: 18 (+0.90)
14 points of Great Strength increases 1% Attack and 1 point of Block.
13 points of Agility increases 1% Speed and 1 point of Dodge.
12 points of Stamina increases 1% HP and Chakra.
Skill: Fire Release Basic
Fire skills effects increase 5%
Pockie Ninja Outfit Stat Sheet
Great Strength Agility Stamina
Suit Level +0: ║ 18 ║ 16 ║ 18 ║
Suit Level +1: ║ 25.2 ║ 22.4 ║ 25.2 ║
Suit Level +2: ║ 32.4 ║ 28.8 ║ 32.4 ║
Suit Level +3: ║ 39.6 ║ 35.2 ║ 39.6 ║
Suit Level +4: ║ 46.8 ║ 41.6 ║ 46.8 ║
Suit Level +5: ║ 54 ║ 48 ║ 54 ║
Suit Level +6: ║ 61.2 ║ 54.4 ║ 61.2 ║
Suit Level +7: ║ 68.4 ║ 60.8 ║ 68.4 ║
Suit Level +8: ║ 75.6 ║ 67.2 ║ 75.6 ║
Suit Level +9: ║ 82.8 ║ 73.6 ║ 82.8 ║
Suit Level +10: ║ 90 ║ 80 ║ 90 ║
Suit Level +11: ║ 97.2 ║ 86.4 ║ 97.2 ║
Suit Level +12: ║ 104.4 ║ 92.8 ║ 104.4 ║
Suit Level +13: ║ 111.6 ║ 99.2 ║ 111.6 ║
Suit Level +14: ║ 118.8 ║ 105.6 ║ 118.8 ║
Suit Level +15: ║ 126 ║ 112 ║ 126 ║
Suit Level +16: ║ 133.2 ║ 118.4 ║ 133.2 ║
Suit Level +17: ║ 140.4 ║ 124.8 ║ 140.4 ║
Suit Level +18: ║ 147.6 ║ 131.2 ║ 147.6 ║
Suit Level +19: ║ 154.8 ║ 137.6 ║ 154.8 ║
Suit Level +20: ║ 162 ║ 144 ║ 162 ║
Suit Level +21: ║ 169.2 ║ 150.4 ║ 169.2 ║
Suit Level +22: ║ 176.4 ║ 156.8 ║ 176.4 ║
Suit Level +23: ║ 183.6 ║ 163.2 ║ 183.6 ║
Suit Level +24: ║ 190.8 ║ 169.6 ║ 190.8 ║
Suit Level +25: ║ 198 ║ 176 ║ 198 ║
Suit Level +26: ║ 205.2 ║ 182.4 ║ 205.2 ║
Suit Level +27: ║ 212.4 ║ 188.8 ║ 212.4 ║
Pockie Ninja Outfit Stat Sheet
| Level | Great Strength | Agility | Stamina |
| --- | --- | --- | --- |
| +0 | | | |
| +1 | | | |
| +2 | | | |
| +3 | | | |
| +4 | | | |
| +5 | | | |
| +6 | | | |
| +7 | | | |
| +8 | | | |
| +9 | | | |
| +10 | | | |
| +11 | | | |
| +12 | | | |
| +13 | | | |
| +14 | | | |
| +15 | | | |
| +16 | | | |
| +17 | | | |
| +18 | | | |
| +19 | | | |
| +20 | | | |
| +21 | | | |
| +22 | | | |
| +23 | | | |
| +24 | | | |
| +25 | | | |
| +26 | | | |
| +27 | | | |