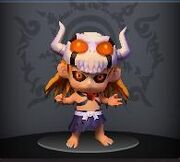 Character Name
: Hollow Ichigo
This is the second release form of Hollow Ichigo. The first time he released it after Ichigo defeated him was during the battle between Kurosaki Ichigo and Ulquiorra.
Playable : Yes
Gender: Male
Outfit: Orange
Weapon: Blunt
Specialty:
Fire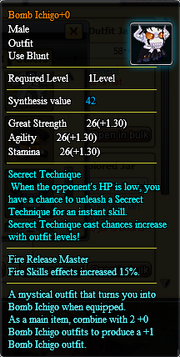 Stats
Great Strength: 26(+1.40)
Agility: 26(+1.35)
Stamina: 26(+1.30)

12 points of Great Strength increases 1% Attack and 1 point of Block.
13 points of Agility increases 1% Speed and 1 point of Dodge.
11 points of Stamina increases 1% HP and Chakra.
Skill: Fire Release Expert
Fire Release Skills effects increase 15%
Pockie Ninja Outfit Stat Sheet
Great Strength Agility Stamina
Suit Level +0: ║ 26 ║ 26 ║ 26 ║
Suit Level +1: ║ 36.4 ║ 36.4 ║ 36.4 ║
Suit Level +2: ║ 46.8 ║ 46.8 ║ 46.8 ║
Suit Level +3: ║ 57.2 ║ 57.2 ║ 57.2 ║
Suit Level +4: ║ 67.6 ║ 67.6 ║ 67.6 ║
Suit Level +5: ║ 78 ║ 78 ║ 78 ║
Suit Level +6: ║ 88.4 ║ 88.4 ║ 88.4 ║
Suit Level +7: ║ 98.8 ║ 98.8 ║ 98.8 ║
Suit Level +8: ║ 109.2 ║ 109.2 ║ 109.2 ║
Suit Level +9: ║ 119.6 ║ 119.6 ║ 119.6 ║
Suit Level +10: ║ 130 ║ 130 ║ 130 ║
Suit Level +11: ║ 140.4 ║ 140.4 ║ 140.4 ║
Suit Level +12: ║ 150.8 ║ 150.8 ║ 150.8 ║
Suit Level +13: ║ 161.2 ║ 161.2 ║ 161.2 ║
Suit Level +14: ║ 171.6 ║ 171.6 ║ 171.6 ║
Suit Level +15: ║ 182 ║ 182 ║ 182 ║
Suit Level +16: ║ 192.4 ║ 192.4 ║ 192.4 ║
Suit Level +17: ║ 202.8 ║ 202.8 ║ 202.8 ║
Suit Level +18: ║ 213.2 ║ 213.2 ║ 213.2 ║
Suit Level +19: ║ 223.6 ║ 223.6 ║ 223.6 ║
Suit Level +20: ║ 234 ║ 234 ║ 234 ║
Suit Level +21: ║ 244.4 ║ 244.4 ║ 244.4 ║
Suit Level +22: ║ 254.8 ║ 254.8 ║ 254.8 ║
Suit Level +23: ║ 265.2 ║ 265.2 ║ 265.2 ║
Suit Level +24: ║ 275.6 ║ 275.6 ║ 275.6 ║
Suit Level +25: ║ 286 ║ 286 ║ 286 ║
Suit Level +26: ║ 296.4 ║ 296.4 ║ 296.4 ║
Suit Level +27: ║ 306.8 ║ 306.8 ║ 306.8 ║