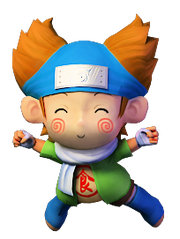 Choji is one of the Rookie Nine. He is the heir to the Akamichi clan. A clan well known for their expansion jutusu. Choji is a very kind hearted person but, when he attacks, he can be a fierce. He is a part of Team Asuma and is constantly seen eating something. And whenever he is called fat, he tends to explode in rage.
Playable : Yes
Gender: Male
Outfit: Grey
Weapon: Blunt

Specialty:
Vitality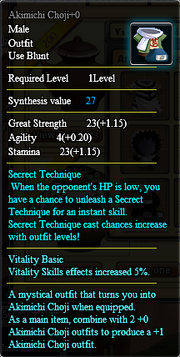 Stats
Great Strength: 23 (+1.15)
Agility: 4 (+0.20)
Stamina: 23 (+1.15)
9 points of Great Strength increases 1% Attack and 1 point of Block.
121 points of Agility increases 1% Speed and 1 point of Dodge.
8 points of Stamina increases 1% HP and Chakra.
Skill Vitality Basic
Vitality Skills effects increased 5%
Pockie Ninja Outfit Stat Sheet
Great Strength Agility Stamina
Suit Level +0: ║ 23 ║ 4 ║ 23 ║
Suit Level +1: ║ 32.2 ║ 5.6 ║ 32.2 ║
Suit Level +2: ║ 41.4 ║ 7.2 ║ 41.4 ║
Suit Level +3: ║ 50.6 ║ 8.8 ║ 50.6 ║
Suit Level +4: ║ 59.8 ║ 10.4 ║ 59.8 ║
Suit Level +5: ║ 69 ║ 12 ║ 69 ║
Suit Level +6: ║ 78.2 ║ 13.6 ║ 78.2 ║
Suit Level +7: ║ 87.4 ║ 15.2 ║ 87.4 ║
Suit Level +8: ║ 96.6 ║ 16.8 ║ 96.6 ║
Suit Level +9: ║ 105.8 ║ 18.4 ║ 105.8 ║
Suit Level +10: ║ 115 ║ 20 ║ 115 ║
Suit Level +11: ║ 124.2 ║ 21.6 ║ 124.2 ║
Suit Level +12: ║ 133.4 ║ 23.2 ║ 133.4 ║
Suit Level +13: ║ 142.6 ║ 24.8 ║ 142.6 ║
Suit Level +14: ║ 151.8 ║ 26.4 ║ 151.8 ║
Suit Level +15: ║ 161 ║ 28 ║ 161 ║
Suit Level +16: ║ 170.2 ║ 29.6 ║ 170.2 ║
Suit Level +17: ║ 179.4 ║ 31.2 ║ 179.4 ║
Suit Level +18: ║ 188.6 ║ 32.8 ║ 188.6 ║
Suit Level +19: ║ 197.8 ║ 34.4 ║ 197.8 ║
Suit Level +20: ║ 207 ║ 36 ║ 207 ║
Suit Level +21: ║ 216.2 ║ 37.6 ║ 216.2 ║
Suit Level +22: ║ 225.4 ║ 39.2 ║ 225.4 ║
Suit Level +23: ║ 234.6 ║ 40.8 ║ 234.6 ║
Suit Level +24: ║ 243.8 ║ 42.4 ║ 243.8 ║
Suit Level +25: ║ 253 ║ 44 ║ 253 ║
Suit Level +26: ║ 262.2 ║ 45.6 ║ 262.2 ║
Suit Level +27: ║ 271.4 ║ 47.2 ║ 271.4 ║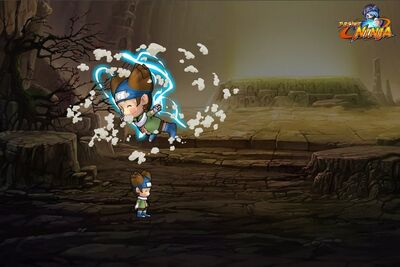 Pockie Ninja Outfit Stat Sheet
| Level | Great Strength | Agility | Stamina |
| --- | --- | --- | --- |
| +0 | | | |
| +1 | | | |
| +2 | | | |
| +3 | | | |
| +4 | | | |
| +5 | | | |
| +6 | | | |
| +7 | | | |
| +8 | | | |
| +9 | | | |
| +10 | | | |
| +11 | | | |
| +12 | | | |
| +13 | | | |
| +14 | | | |
| +15 | | | |
| +16 | | | |
| +17 | | | |
| +18 | | | |
| +19 | | | |
| +20 | | | |
| +21 | | | |
| +22 | | | |
| +23 | | | |
| +24 | | | |
| +25 | | | |
| +26 | | | |
| +27 | | | |