Skill Name: Death Mirage Jutsu
Skill Picture:

&nbsp Damage: None
Skill Effect: The enemy will lose 6% of max HP and CP
Duration: Effective until the enemy has used up all chakra
Launch Timing: Additional attack
Requirements: None
Proc-rate: 28%
Limitation: None
Chakra Consumption: 38 points*
Description: Decrease opponent's HP and CP each turn
In game pic:
image needed
Additional info
Edit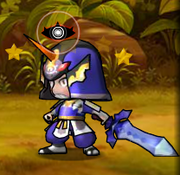 Trivia:
The Chakra consumption is based on the current CP of the character, this data was taken from a character with 2106 CP, so, the percentage of Chakra used is equivalent to x=(38/2106)*100=1.804% aprox.
It's not clear if it's a bug, but according to the description, this technique will be effective until the enemy's chakra runs out, but, in-game experience shows up that it's not true, even when the enemy's CP is '0' this technique is still going.
Any technique that consumes Chakra will remove the effect. Which is why, if a character has no Chakra left, the effect becomes permanent.
Community content is available under
CC-BY-SA
unless otherwise noted.