Character Name: Deidara
Deidara (デイダラ) was a missing-nin from Iwagakure. He was also one of the youngest members of Akatsuki, and was partnered with Sasori and Tobi consecutively before his death.
Playable : Yes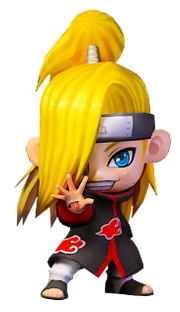 Gender: Male
Outfit Grade: Orange
Weapon: Fist
Specialty: Earth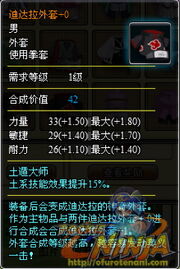 Stats:
Great Strength: 33(+1.50)
Agility: 29(+1.40)
Stamina: 26(+1.10)
8 points of Great Strength increases 1% Attack and 1 point of Block.
12 points of Agility increases 1% Speed and 1 point of Dodge.
17 points of Stamina increases 1% HP and Chakra.
Earth Release Master: Earth Skills effects increased by 15%
Pockie Ninja Outfit Stat Sheet
Great Strength Agility Stamina
Suit Level +0: ║ 33 ║ 29 ║ 26 ║
Suit Level +1: ║ 46.2 ║ 40.6 ║ 36.4 ║
Suit Level +2: ║ 59.4 ║ 52.2 ║ 46.8 ║
Suit Level +3: ║ 72.6 ║ 63.8 ║ 57.2 ║
Suit Level +4: ║ 85.8 ║ 75.4 ║ 67.6 ║
Suit Level +5: ║ 99 ║ 87 ║ 78 ║
Suit Level +6: ║ 112.2 ║ 98.6 ║ 88.4 ║
Suit Level +7: ║ 125.4 ║ 110.2 ║ 98.8 ║
Suit Level +8: ║ 138.6 ║ 121.8 ║ 109.2 ║
Suit Level +9: ║ 151.8 ║ 133.4 ║ 119.6 ║
Suit Level +10: ║ 165 ║ 145 ║ 130 ║
Suit Level +11: ║ 178.2 ║ 156.6 ║ 140.4 ║
Suit Level +12: ║ 191.4 ║ 168.2 ║ 150.8 ║
Suit Level +13: ║ 204.6 ║ 179.8 ║ 161.2 ║
Suit Level +14: ║ 217.8 ║ 191.4 ║ 171.6 ║
Suit Level +15: ║ 231 ║ 203 ║ 182 ║
Suit Level +16: ║ 244.2 ║ 214.6 ║ 192.4 ║
Suit Level +17: ║ 257.4 ║ 226.2 ║ 202.8 ║
Suit Level +18: ║ 270.6 ║ 237.8 ║ 213.2 ║
Suit Level +19: ║ 283.8 ║ 249.4 ║ 223.6 ║
Suit Level +20: ║ 297 ║ 261 ║ 234 ║
Suit Level +21: ║ 310.2 ║ 272.6 ║ 244.4 ║
Suit Level +22: ║ 323.4 ║ 284.2 ║ 254.8 ║
Suit Level +23: ║ 336.6 ║ 295.8 ║ 265.2 ║
Suit Level +24: ║ 349.8 ║ 307.4 ║ 275.6 ║
Suit Level +25: ║ 363 ║ 319 ║ 286 ║
Suit Level +26: ║ 376.2 ║ 330.6 ║ 296.4 ║
Suit Level +27: ║ 389.4 ║ 342.2 ║ 306.8 ║
Pockie Ninja Outfit Stat Sheet
| Level | Great Strength | Agility | Stamina |
| --- | --- | --- | --- |
| +0 | | | |
| +1 | | | |
| +2 | | | |
| +3 | | | |
| +4 | | | |
| +5 | | | |
| +6 | | | |
| +7 | | | |
| +8 | | | |
| +9 | | | |
| +10 | | | |
| +11 | | | |
| +12 | | | |
| +13 | | | |
| +14 | | | |
| +15 | | | |
| +16 | | | |
| +17 | | | |
| +18 | | | |
| +19 | | | |
| +20 | | | |
| +21 | | | |
| +22 | | | |
| +23 | | | |
| +24 | | | |
| +25 | | | |
| +26 | | | |
| +27 | | | |