Skill Effect
Form a thundercloud to attack both sides of the battle randomly
Launch Timing
Activate in combat, and restart when the effect is released
Chakra Consumption
259 Points
Description
Summon a thundercloud to attack with the caster. The most disadvantage of this Ninjutsu is the difficulty in controlling the thunder despite it's great power.

Flying Thunder God is a powerful yet disadvantagous Skill obtainable in the game Pockie Ninja. It's obtainable at any level, though it is given at random. It is quite a common Skill for the Ninjas to use, and a very good one at that. It is actually a skill used by most Tankers, as it won't really affect their health much so, and Punishers for damage.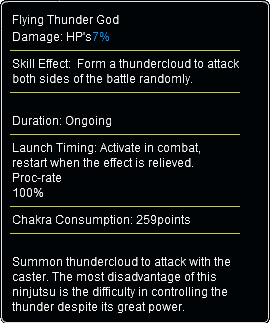 Community content is available under
CC-BY-SA
unless otherwise noted.