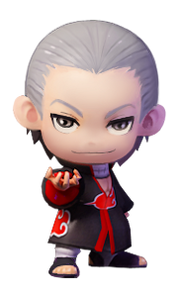 Character Name: Hidan
Hidan (飛段) was an S-rank missing-nin from Yugakure who defected and joined the Akatsuki. There he was partnered with Kakuzu, despite having mutual dislike for each other, and was the second newest member of Akatsuki, at the time of his introduction. Kisame laughingly referred to Hidan and Kakuzu as the "Zombie Combo" (ゾンビコンビ).
Playable : Yes
Gender: Male
Outfit Grade:
Orange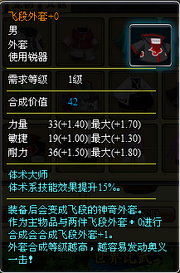 Weapon: Sharp
Specialty: Vitality

Stats:
Great Strength: 33(+1.40)
Agility: 19(+1.00)
Stamina: 36(+1.50)
13 points of Great Strength increases 1% Attack and 1 point of Block.
16 points of Agility increases 1% Speed and 1 point of Dodge.
8 points of Stamina increases 1% HP and Chakra.
Vitality Master: Vitality Skills effects increased 15%
Pockie Ninja Outfit Stat Sheet
Great Strength Agility Stamina
Suit Level +0: ║ 33 ║ 19 ║ 36 ║
Suit Level +1: ║ 46.2 ║ 26.6 ║ 50.4 ║
Suit Level +2: ║ 59.4 ║ 34.2 ║ 64.8 ║
Suit Level +3: ║ 72.6 ║ 41.8 ║ 79.2 ║
Suit Level +4: ║ 85.8 ║ 49.4 ║ 93.6 ║
Suit Level +5: ║ 99 ║ 57 ║ 108 ║
Suit Level +6: ║ 112.2 ║ 64.6 ║ 122.4 ║
Suit Level +7: ║ 125.4 ║ 72.2 ║ 136.8 ║
Suit Level +8: ║ 138.6 ║ 79.8 ║ 151.2 ║
Suit Level +9: ║ 151.8 ║ 87.4 ║ 165.6 ║
Suit Level +10: ║ 165 ║ 95 ║ 180 ║
Suit Level +11: ║ 178.2 ║ 102.6 ║ 194.4 ║
Suit Level +12: ║ 191.4 ║ 110.2 ║ 208.8 ║
Suit Level +13: ║ 204.6 ║ 117.8 ║ 223.2 ║
Suit Level +14: ║ 217.8 ║ 125.4 ║ 237.6 ║
Suit Level +15: ║ 231 ║ 133 ║ 252 ║
Suit Level +16: ║ 244.2 ║ 140.6 ║ 266.4 ║
Suit Level +17: ║ 257.4 ║ 148.2 ║ 280.8 ║
Suit Level +18: ║ 270.6 ║ 155.8 ║ 295.2 ║
Suit Level +19: ║ 283.8 ║ 163.4 ║ 309.6 ║
Suit Level +20: ║ 297 ║ 171 ║ 324 ║
Suit Level +21: ║ 310.2 ║ 178.6 ║ 338.4 ║
Suit Level +22: ║ 323.4 ║ 186.2 ║ 352.8 ║
Suit Level +23: ║ 336.6 ║ 193.8 ║ 367.2 ║
Suit Level +24: ║ 349.8 ║ 201.4 ║ 381.6 ║
Suit Level +25: ║ 363 ║ 209 ║ 396 ║
Suit Level +26: ║ 376.2 ║ 216.6 ║ 410.4 ║
Suit Level +27: ║ 389.4 ║ 224.2 ║ 424.8 ║
Pockie Ninja Outfit Stat Sheet
| Level | Great Strength | Agility | Stamina |
| --- | --- | --- | --- |
| +0 | | | |
| +1 | | | |
| +2 | | | |
| +3 | | | |
| +4 | | | |
| +5 | | | |
| +6 | | | |
| +7 | | | |
| +8 | | | |
| +9 | | | |
| +10 | | | |
| +11 | | | |
| +12 | | | |
| +13 | | | |
| +14 | | | |
| +15 | | | |
| +16 | | | |
| +17 | | | |
| +18 | | | |
| +19 | | | |
| +20 | | | |
| +21 | | | |
| +22 | | | |
| +23 | | | |
| +24 | | | |
| +25 | | | |
| +26 | | | |
| +27 | | | |