Grimmjow Jaegerjaquez is the Sexta (6th) Espada in Aizen's army of Arrancar. He turns into his hollowfied form when using his Resurrecciòn Zanpakutō, Pantera.
Playable: Yes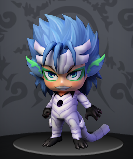 Gender: Male
Outfit: Blue
Weapon: Blunt
Specialty: Vitality
Stats

Great Strength: 21 (+1.05)
Agility: 21 (+1.05)
Stamina: 19 (+0.95)
Skill: Vitality Expert
Vitality skills effects increased by 10%.
Pockie Ninja Outfit Stat Sheet
Great Strength Agility Stamina
Suit Level +0: ║ 21 ║ 21 ║ 19 ║
Suit Level +1: ║ 29.4 ║ 29.4 ║ 26.6 ║
Suit Level +2: ║ 37.8 ║ 37.8 ║ 34.2 ║
Suit Level +3: ║ 46.2 ║ 46.2 ║ 41.8 ║
Suit Level +4: ║ 54.6 ║ 54.6 ║ 49.4 ║
Suit Level +5: ║ 63 ║ 63 ║ 57 ║
Suit Level +6: ║ 71.4 ║ 71.4 ║ 64.6 ║
Suit Level +7: ║ 79.8 ║ 79.8 ║ 72.2 ║
Suit Level +8: ║ 88.2 ║ 88.2 ║ 79.8 ║
Suit Level +9: ║ 96.6 ║ 96.6 ║ 87.4 ║
Suit Level +10: ║ 105 ║ 105 ║ 95 ║
Suit Level +11: ║ 113.4 ║ 113.4 ║ 102.6 ║
Suit Level +12: ║ 121.8 ║ 121.8 ║ 110.2 ║
Suit Level +13: ║ 130.2 ║ 130.2 ║ 117.8 ║
Suit Level +14: ║ 138.6 ║ 138.6 ║ 125.4 ║
Suit Level +15: ║ 147 ║ 147 ║ 133 ║
Suit Level +16: ║ 155.4 ║ 155.4 ║ 140.6 ║
Suit Level +17: ║ 163.8 ║ 163.8 ║ 148.2 ║
Suit Level +18: ║ 172.2 ║ 172.2 ║ 155.8 ║
Suit Level +19: ║ 180.6 ║ 180.6 ║ 163.4 ║
Suit Level +20: ║ 189 ║ 189 ║ 171 ║
Suit Level +21: ║ 197.4 ║ 197.4 ║ 178.6 ║
Suit Level +22: ║ 205.8 ║ 205.8 ║ 186.2 ║
Suit Level +23: ║ 214.2 ║ 214.2 ║ 193.8 ║
Suit Level +24: ║ 222.6 ║ 222.6 ║ 201.4 ║
Suit Level +25: ║ 231 ║ 231 ║ 209 ║
Suit Level +26: ║ 239.4 ║ 239.4 ║ 216.6 ║
Suit Level +27: ║ 247.8 ║ 247.8 ║ 224.2 ║
Pockie Ninja Outfit Stat Sheet
Edit
| Level | Great Strength | Agility | Stamina |
| --- | --- | --- | --- |
| +0 | | | |
| +1 | | | |
| +2 | | | |
| +3 | | | |
| +4 | | | |
| +5 | | | |
| +6 | | | |
| +7 | | | |
| +8 | | | |
| +9 | | | |
| +10 | | | |
| +11 | | | |
| +12 | | | |
| +13 | | | |
| +14 | | | |
| +15 | | | |
| +16 | | | |
| +17 | | | |
| +18 | | | |
| +19 | | | |
| +20 | | | |
| +21 | | | |
| +22 | | | |
| +23 | | | |
| +24 | | | |
| +25 | | | |
| +26 | | | |
| +27 | | | |