Ulquiorra Cifer is Espada Cuatro (4) in Aizen's army. He turns into his
hollowfied form when using his Ressurecciòn Zanpakutō, Murciélago.
Playable : Yes
Gender:
Male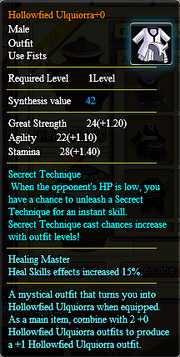 Outfit: Orange
Weapon: Fist
Specialty: Heal
Stats
Great Strength: 24(+1.20)
Agility: 22(+1.10)
Stamina: 28(+1.40)
13 points of Great Strength increases 1% Attack and 1 point of Block.
21 points of Agility increases 1% Speed and 1 point of Dodge.
9 points of Stamina increases 1% HP and Chakra.
Skill: Heal Release Expert
Heal Release Skills effects increase 15%

Pockie Ninja Outfit Stat Sheet
Great Strength Agility Stamina
Suit Level +0: ║ 24 ║ 22 ║ 28 ║
Suit Level +1: ║ 33.6 ║ 30.8 ║ 39.2 ║
Suit Level +2: ║ 43.2 ║ 39.6 ║ 50.4 ║
Suit Level +3: ║ 52.8 ║ 48.4 ║ 61.6 ║
Suit Level +4: ║ 62.4 ║ 57.2 ║ 72.8 ║
Suit Level +5: ║ 72 ║ 66 ║ 84 ║
Suit Level +6: ║ 81.6 ║ 74.8 ║ 95.2 ║
Suit Level +7: ║ 91.2 ║ 83.6 ║ 106.4 ║
Suit Level +8: ║ 100.8 ║ 92.4 ║ 117.6 ║
Suit Level +9: ║ 110.4 ║ 101.2 ║ 128.8 ║
Suit Level +10: ║ 120 ║ 110 ║ 140 ║
Suit Level +11: ║ 129.6 ║ 118.8 ║ 151.2 ║
Suit Level +12: ║ 139.2 ║ 127.6 ║ 162.4 ║
Suit Level +13: ║ 148.8 ║ 136.4 ║ 173.6 ║
Suit Level +14: ║ 158.4 ║ 145.2 ║ 184.8 ║
Suit Level +15: ║ 168 ║ 154 ║ 196 ║
Suit Level +16: ║ 177.6 ║ 162.8 ║ 207.2 ║
Suit Level +17: ║ 187.2 ║ 171.6 ║ 218.4 ║
Suit Level +18: ║ 196.8 ║ 180.4 ║ 229.6 ║
Suit Level +19: ║ 206.4 ║ 189.2 ║ 240.8 ║
Suit Level +20: ║ 216 ║ 198 ║ 252 ║
Suit Level +21: ║ 225.6 ║ 206.8 ║ 263.2 ║
Suit Level +22: ║ 235.2 ║ 215.6 ║ 274.4 ║
Suit Level +23: ║ 244.8 ║ 224.4 ║ 285.6 ║
Suit Level +24: ║ 254.4 ║ 233.2 ║ 296.8 ║
Suit Level +25: ║ 264 ║ 242 ║ 308 ║
Suit Level +26: ║ 273.6 ║ 250.8 ║ 319.2 ║
Suit Level +27: ║ 283.2 ║ 259.6 ║ 330.4 ║
Pockie Ninja Outfit Stat Sheet
Edit
| Level | Great Strength | Agility | Stamina |
| --- | --- | --- | --- |
| +0 | | | |
| +1 | | | |
| +2 | | | |
| +3 | | | |
| +4 | | | |
| +5 | | | |
| +6 | | | |
| +7 | | | |
| +8 | | | |
| +9 | | | |
| +10 | | | |
| +11 | | | |
| +12 | | | |
| +13 | | | |
| +14 | | | |
| +15 | | | |
| +16 | | | |
| +17 | | | |
| +18 | | | |
| +19 | | | |
| +20 | | | |
| +21 | | | |
| +22 | | | |
| +23 | | | |
| +24 | | | |
| +25 | | | |
| +26 | | | |
| +27 | | | |