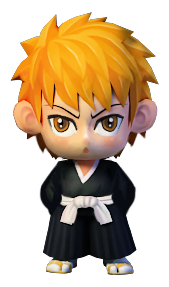 Character Name:
Ichigo Kurosaki

Ichigo Kurosaki (黒崎 一護, Kurosaki Ichigo) is the main character in Bleach, he is the Subtitute Shinigami ( Soul Reaper ) with the Visored power.
Playable : Yes
Gender:
Male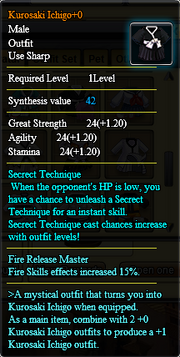 Outfit: Orange
Weapon: Sharp
Specialty: Fire

Stats
Great Strength: 24(+1.20)
Agility: 24(+1.20)
Stamina: 24(+1.20)
13 points of Great Strength increases 1% Attack and 1 point of Block.
15 points of Agility increases 1% Speed and 1 point of Dodge.
11 points of Stamina increases 1% HP and Chakra.
Skill: Fire Release Master
Fire Release Skills effects increase 15%
Pockie Ninja Outfit Stat Sheet
Great Strength Agility Stamina
Suit Level +0: ║ 24 ║ 24 ║ 24 ║
Suit Level +1: ║ 33.6 ║ 33.6 ║ 33.6 ║
Suit Level +2: ║ 43.2 ║ 43.2 ║ 43.2 ║
Suit Level +3: ║ 52.8 ║ 52.8 ║ 52.8 ║
Suit Level +4: ║ 62.4 ║ 62.4 ║ 62.4 ║
Suit Level +5: ║ 72 ║ 72 ║ 72 ║
Suit Level +6: ║ 81.6 ║ 81.6 ║ 81.6 ║
Suit Level +7: ║ 91.2 ║ 91.2 ║ 91.2 ║
Suit Level +8: ║ 100.8 ║ 100.8 ║ 100.8 ║
Suit Level +9: ║ 110.4 ║ 110.4 ║ 110.4 ║
Suit Level +10: ║ 120 ║ 120 ║ 120 ║
Suit Level +11: ║ 129.6 ║ 129.6 ║ 129.6 ║
Suit Level +12: ║ 139.2 ║ 139.2 ║ 139.2 ║
Suit Level +13: ║ 148.8 ║ 148.8 ║ 148.8 ║
Suit Level +14: ║ 158.4 ║ 158.4 ║ 158.4 ║
Suit Level +15: ║ 168 ║ 168 ║ 168 ║
Suit Level +16: ║ 177.6 ║ 177.6 ║ 177.6 ║
Suit Level +17: ║ 187.2 ║ 187.2 ║ 187.2 ║
Suit Level +18: ║ 196.8 ║ 196.8 ║ 196.8 ║
Suit Level +19: ║ 206.4 ║ 206.4 ║ 206.4 ║
Suit Level +20: ║ 216 ║ 216 ║ 216 ║
Suit Level +21: ║ 225.6 ║ 225.6 ║ 225.6 ║
Suit Level +22: ║ 235.2 ║ 235.2 ║ 235.2 ║
Suit Level +23: ║ 244.8 ║ 244.8 ║ 244.8 ║
Suit Level +24: ║ 254.4 ║ 254.4 ║ 254.4 ║
Suit Level +25: ║ 264 ║ 264 ║ 264 ║
Suit Level +26: ║ 273.6 ║ 273.6 ║ 273.6 ║
Suit Level +27: ║ 283.2 ║ 283.2 ║ 283.2 ║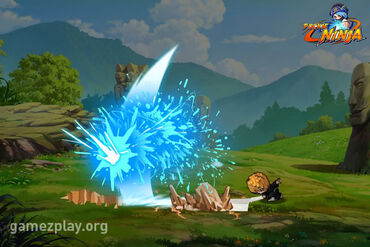 Pockie Ninja Outfit Stat Sheet
Edit
| Level | Great Strength | Agility | Stamina |
| --- | --- | --- | --- |
| +0 | | | |
| +1 | | | |
| +2 | | | |
| +3 | | | |
| +4 | | | |
| +5 | | | |
| +6 | | | |
| +7 | | | |
| +8 | | | |
| +9 | | | |
| +10 | | | |
| +11 | | | |
| +12 | | | |
| +13 | | | |
| +14 | | | |
| +15 | | | |
| +16 | | | |
| +17 | | | |
| +18 | | | |
| +19 | | | |
| +20 | | | |
| +21 | | | |
| +22 | | | |
| +23 | | | |
| +24 | | | |
| +25 | | | |
| +26 | | | |
| +27 | | | |