Anime/Game Ino
This page is a page that covers Ino (Game). You might want to look at Yamanaka Ino (Anime)
Ino Yamanaka
| | |
| --- | --- |
| STATUS | Obtainable Normally |
"

There's no meaning to a flower unless it blooms.
— Ino Yamanaka

"
Character Name: Yamanaka Ino
Ino Yamanaka (山中いの) is one of the main supporting characters of the series. She is a chūnin-level kunoichi of Konohagakure's Yamanaka clan, and a member of Team Asuma. Along with her team-mates, Ino makes up the new generation of Ino-Shika-Chō, just like their fathers were before them.
Playable :
Yes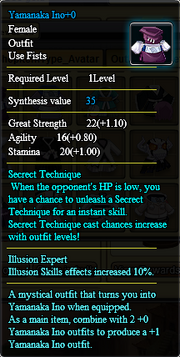 Gender: Female
Outfit: Blue
Weapon: Fists
Specialty: Illusion

Stats Great Strength: 22 (+1.10)
Agility: 16 (+0.80)
Stamina: 20 (+1.00)
11 points of Great Strength increases 1% Attack and 1 point of Block.
17 points of Agility increases 1% Speed and 1 point of Dodge.
12 points of Stamina increases 1% HP and Chakra.
Skill: Illusion Basic
Illusion Skills effects increased 10%
Appearance
Ino Yamanaka, in the game, takes on a very small and similar version to her An
ime/Manga style. She still has the blonde hair, which is in the phase where it is half grown to it's former length, blue eyes, and wears her signature purple outfit. She is, however, in her Non-Shippuden form, and is of a younger version.
Pockie Ninja Outfit Stat Sheet
Great Strength Agility Stamina
Suit Level +0: ║ 22 ║ 16 ║ 20 ║
Suit Level +1: ║ 30.8 ║ 22.4 ║ 28 ║
Suit Level +2: ║ 39.6 ║ 28.8 ║ 36 ║
Suit Level +3: ║ 48.4 ║ 35.2 ║ 44 ║
Suit Level +4: ║ 57.2 ║ 41.6 ║ 52 ║
Suit Level +5: ║ 66 ║ 48 ║ 60 ║
Suit Level +6: ║ 74.8 ║ 54.4 ║ 68 ║
Suit Level +7: ║ 83.6 ║ 60.8 ║ 76 ║
Suit Level +8: ║ 92.4 ║ 67.2 ║ 84 ║
Suit Level +9: ║ 101.2 ║ 73.6 ║ 92 ║
Suit Level +10: ║ 110 ║ 80 ║ 100 ║
Suit Level +11: ║ 118.8 ║ 86.4 ║ 108 ║
Suit Level +12: ║ 127.6 ║ 92.8 ║ 116 ║
Suit Level +13: ║ 136.4 ║ 99.2 ║ 124 ║
Suit Level +14: ║ 145.2 ║ 105.6 ║ 132 ║
Suit Level +15: ║ 154 ║ 112 ║ 140 ║
Suit Level +16: ║ 162.8 ║ 118.4 ║ 148 ║
Suit Level +17: ║ 171.6 ║ 124.8 ║ 156 ║
Suit Level +18: ║ 180.4 ║ 131.2 ║ 164 ║
Suit Level +19: ║ 189.2 ║ 137.6 ║ 172 ║
Suit Level +20: ║ 198 ║ 144 ║ 180 ║
Suit Level +21: ║ 206.8 ║ 150.4 ║ 188 ║
Suit Level +22: ║ 215.6 ║ 156.8 ║ 196 ║
Suit Level +23: ║ 224.4 ║ 163.2 ║ 204 ║
Suit Level +24: ║ 233.2 ║ 169.6 ║ 212 ║
Suit Level +25: ║ 242 ║ 176 ║ 220 ║
Suit Level +26: ║ 250.8 ║ 182.4 ║ 228 ║
Suit Level +27: ║ 259.6 ║ 188.8 ║ 236 ║
Pockie Ninja Outfit Stat Sheet
| Level | Great Strength | Agility | Stamina |
| --- | --- | --- | --- |
| +0 | | | |
| +1 | | | |
| +2 | | | |
| +3 | | | |
| +4 | | | |
| +5 | | | |
| +6 | | | |
| +7 | | | |
| +8 | | | |
| +9 | | | |
| +10 | | | |
| +11 | | | |
| +12 | | | |
| +13 | | | |
| +14 | | | |
| +15 | | | |
| +16 | | | |
| +17 | | | |
| +18 | | | |
| +19 | | | |
| +20 | | | |
| +21 | | | |
| +22 | | | |
| +23 | | | |
| +24 | | | |
| +25 | | | |
| +26 | | | |
| +27 | | | |