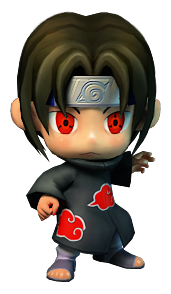 Character Name : Itachi Uchiha
Itachi is another character from Naruto. After killing his clan ordered by the elders of the leaf village to prevent the next great war, he then left and requested that sasuke would not be hurt or he will expose the elders secret. later on he joined Akatsuki. but Later on in shippuden he died during the battle with his brother due to how weak he was because of use of illness. itachi also had a plot to die by his brother sasuke uchiha.
Playable : Yes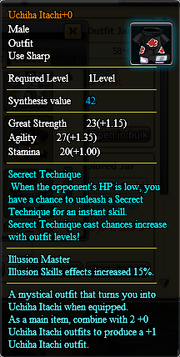 Gender: Male
Outfit: Orange
Weapon: Sharp
Specialty: Illusion
Stats
Great Strength: 23 (+1.15)
Agility: 27 (+1.35)
Stamina: 20 (+1.00)
12 points of Great Strength increases 1% Attack and 1 point of Block.
10 points of Agility increases 1% Speed and 1 point of Dodge.
22 points of Stamina increases 1% HP and Chakra.
Illusion Master: Illusion skills effects increase 15%
BMV Finals
Great Strength 22.61666667
Agility 31.86
Stamina 10.72727273

Great Strength Agility Stamina
Suit Level +0: ║ 23 ║ 27 ║ 20 ║
Suit Level +1: ║ 32.2 ║ 37.8 ║ 28 ║
Suit Level +2: ║ 41.4 ║ 48.6 ║ 36 ║
Suit Level +3: ║ 50.6 ║ 59.4 ║ 44 ║
Suit Level +4: ║ 59.8 ║ 70.2 ║ 52 ║
Suit Level +5: ║ 69 ║ 81 ║ 60 ║
Suit Level +6: ║ 78.2 ║ 91.8 ║ 68 ║
Suit Level +7: ║ 87.4 ║ 102.6 ║ 76 ║
Suit Level +8: ║ 96.6 ║ 113.4 ║ 84 ║
Suit Level +9: ║ 105.8 ║ 124.2 ║ 92 ║
Suit Level +10: ║ 115 ║ 135 ║ 100 ║
Suit Level +11: ║ 124.2 ║ 145.8 ║ 108 ║
Suit Level +12: ║ 133.4 ║ 156.6 ║ 116 ║
Suit Level +13: ║ 142.6 ║ 167.4 ║ 124 ║
Suit Level +14: ║ 151.8 ║ 178.2 ║ 132 ║
Suit Level +15: ║ 161 ║ 189 ║ 140 ║
Suit Level +16: ║ 170.2 ║ 199.8 ║ 148 ║
Suit Level +17: ║ 179.4 ║ 210.6 ║ 156 ║
Suit Level +18: ║ 188.6 ║ 221.4 ║ 164 ║
Suit Level +19: ║ 197.8 ║ 232.2 ║ 172 ║
Suit Level +20: ║ 207 ║ 243 ║ 180 ║
Suit Level +21: ║ 216.2 ║ 253.8 ║ 188 ║
Suit Level +22: ║ 225.4 ║ 264.6 ║ 196 ║
Suit Level +23: ║ 234.6 ║ 275.4 ║ 204 ║
Suit Level +24: ║ 243.8 ║ 286.2 ║ 212 ║
Suit Level +25: ║ 253 ║ 297 ║ 220 ║
Suit Level +26: ║ 262.2 ║ 307.8 ║ 228 ║
Suit Level +27: ║ 271.4 ║ 318.6 ║ 236 ║
Pockie Ninja Outfit Stat Sheet
| Level | Great Strength | Agility | Stamina |
| --- | --- | --- | --- |
| +0 | | | |
| +1 | | | |
| +2 | | | |
| +3 | | | |
| +4 | | | |
| +5 | | | |
| +6 | | | |
| +7 | | | |
| +8 | | | |
| +9 | | | |
| +10 | | | |
| +11 | | | |
| +12 | | | |
| +13 | | | |
| +14 | | | |
| +15 | | | |
| +16 | | | |
| +17 | | | |
| +18 | | | |
| +19 | | | |
| +20 | | | |
| +21 | | | |
| +22 | | | |
| +23 | | | |
| +24 | | | |
| +25 | | | |
| +26 | | | |
| +27 | | | |