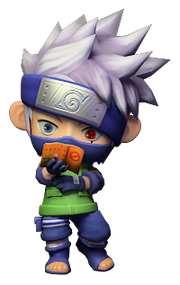 Character Name : Hatake Kakashi
Kakashi is the son of Sakumo Hatake. He was a student of Minato Namikaze. and was team mates to Rin and Obito Uchiha, He was given the sharingan as a present before Obito died. After that, he was well known around Konohagakure. as the copy ninja due to using the Sharingan to mimic other ninja's jutsus. It was also after the Third Great Shinobi War that he went into ANBU. One of his partners in ANBU was Tenzou. Later on, he left ANBU to become a teacher. And thus, got Naruto Uzumaki, Sakura Haruno and Sasuka Uchiha as students. He loves to read Icha Icha paradise which Jiraya wrote.
Playable :
Yes
Gender: Male
Outfit: Orange
Weapon: Blunt
Specialty: Lightning
Stats
Great Strength: 26 (+1.30)
Agility: 26 (+1.30)
Stamina: 24 (+1.20)
14 points of Great Strength increases 1% Attack and 1 point of Block.
12 points of Agility increases 1% Speed and 1 point of Dodge.
13 points of Stamina increases 1% HP and Chakra.
Skill: Lightning Release Master
Lightning Skills effects increase 15%

Pockie Ninja Outfit Stat Sheet
Great Strength Agility Stamina
Suit Level +0: ║ 26 ║ 26 ║ 24 ║
Suit Level +1: ║ 36.4 ║ 36.4 ║ 33.6 ║
Suit Level +2: ║ 46.8 ║ 46.8 ║ 43.2 ║
Suit Level +3: ║ 57.2 ║ 57.2 ║ 52.8 ║
Suit Level +4: ║ 67.6 ║ 67.6 ║ 62.4 ║
Suit Level +5: ║ 78 ║ 78 ║ 72 ║
Suit Level +6: ║ 88.4 ║ 88.4 ║ 81.6 ║
Suit Level +7: ║ 98.8 ║ 98.8 ║ 91.2 ║
Suit Level +8: ║ 109.2 ║ 109.2 ║ 100.8 ║
Suit Level +9: ║ 119.6 ║ 119.6 ║ 110.4 ║
Suit Level +10: ║ 130 ║ 130 ║ 120 ║
Suit Level +11: ║ 140.4 ║ 140.4 ║ 129.6 ║
Suit Level +12: ║ 150.8 ║ 150.8 ║ 139.2 ║
Suit Level +13: ║ 161.2 ║ 161.2 ║ 148.8 ║
Suit Level +14: ║ 171.6 ║ 171.6 ║ 158.4 ║
Suit Level +15: ║ 182 ║ 182 ║ 168 ║
Suit Level +16: ║ 192.4 ║ 192.4 ║ 177.6 ║
Suit Level +17: ║ 202.8 ║ 202.8 ║ 187.2 ║
Suit Level +18: ║ 213.2 ║ 213.2 ║ 196.8 ║
Suit Level +19: ║ 223.6 ║ 223.6 ║ 206.4 ║
Suit Level +20: ║ 234 ║ 234 ║ 216 ║
Suit Level +21: ║ 244.4 ║ 244.4 ║ 225.6 ║
Suit Level +22: ║ 254.8 ║ 254.8 ║ 235.2 ║
Suit Level +23: ║ 265.2 ║ 265.2 ║ 244.8 ║
Suit Level +24: ║ 275.6 ║ 275.6 ║ 254.4 ║
Suit Level +25: ║ 286 ║ 286 ║ 264 ║
Suit Level +26: ║ 296.4 ║ 296.4 ║ 273.6 ║
Suit Level +27: ║ 306.8 ║ 306.8 ║ 283.2 ║
Pockie Ninja Outfit Stat Sheet
| Level | Great Strength | Agility | Stamina |
| --- | --- | --- | --- |
| +0 | | | |
| +1 | | | |
| +2 | | | |
| +3 | | | |
| +4 | | | |
| +5 | | | |
| +6 | | | |
| +7 | | | |
| +8 | | | |
| +9 | | | |
| +10 | | | |
| +11 | | | |
| +12 | | | |
| +13 | | | |
| +14 | | | |
| +15 | | | |
| +16 | | | |
| +17 | | | |
| +18 | | | |
| +19 | | | |
| +20 | | | |
| +21 | | | |
| +22 | | | |
| +23 | | | |
| +24 | | | |
| +25 | | | |
| +26 | | | |
| +27 | | | |