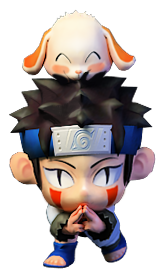 Character Name
:
Kiba Inuzuka
Kiba is a part of the Rookie Nine. He is the heir to the Inuzuka clan. The small white canine on top of his head is called Akamaru. Which later on in Shippuden becomes larger. Both he and Akamaru work together in battle by Fang over Fang. One of Kiba's special jutsus. Kiba is the kind of person that does loose his cool sometimes. But when fighting, can be a very formidabale opponent.
Playable :
Yes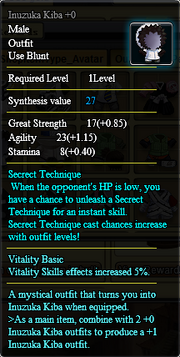 Gender: Male
Outfit: Grey
Weapon: Blunt
Specialty: Vitality
Stats
Great Strength: 17 (+0.85)
Agility: 23 (+1.15)
Stamina: 8 (+0.40)
12 points of Great Strength increases 1% Attack and 1 point of Block.
11 points of Agility increases 1% Speed and 1 point of Dodge.
18 points of Stamina increases 1% HP and Chakra.
Skill: Vitality Basic
Vitality Skills effects increased 5%
Pockie Ninja Outfit Stat Sheet
Great Strength Agility Stamina
Suit Level +0: ║ 17 ║ 23 ║ 8 ║
Suit Level +1: ║ 23.8 ║ 32.2 ║ 11.2 ║
Suit Level +2: ║ 30.6 ║ 41.4 ║ 14.4 ║
Suit Level +3: ║ 37.4 ║ 50.6 ║ 17.6 ║
Suit Level +4: ║ 44.2 ║ 59.8 ║ 20.8 ║
Suit Level +5: ║ 51 ║ 69 ║ 24 ║
Suit Level +6: ║ 57.8 ║ 78.2 ║ 27.2 ║
Suit Level +7: ║ 64.6 ║ 87.4 ║ 30.4 ║
Suit Level +8: ║ 71.4 ║ 96.6 ║ 33.6 ║
Suit Level +9: ║ 78.2 ║ 105.8 ║ 36.8 ║
Suit Level +10: ║ 85 ║ 115 ║ 40 ║
Suit Level +11: ║ 91.8 ║ 124.2 ║ 43.2 ║
Suit Level +12: ║ 98.6 ║ 133.4 ║ 46.4 ║
Suit Level +13: ║ 105.4 ║ 142.6 ║ 49.6 ║
Suit Level +14: ║ 112.2 ║ 151.8 ║ 52.8 ║
Suit Level +15: ║ 119 ║ 161 ║ 56 ║
Suit Level +16: ║ 125.8 ║ 170.2 ║ 59.2 ║
Suit Level +17: ║ 132.6 ║ 179.4 ║ 62.4 ║
Suit Level +18: ║ 139.4 ║ 188.6 ║ 65.6 ║
Suit Level +19: ║ 146.2 ║ 197.8 ║ 68.8 ║
Suit Level +20: ║ 153 ║ 207 ║ 72 ║
Suit Level +21: ║ 159.8 ║ 216.2 ║ 75.2 ║
Suit Level +22: ║ 166.6 ║ 225.4 ║ 78.4 ║
Suit Level +23: ║ 173.4 ║ 234.6 ║ 81.6 ║
Suit Level +24: ║ 180.2 ║ 243.8 ║ 84.8 ║
Suit Level +25: ║ 187 ║ 253 ║ 88 ║
Suit Level +26: ║ 193.8 ║ 262.2 ║ 91.2 ║
Suit Level +27: ║ 200.6 ║ 271.4 ║ 94.4 ║
Pockie Ninja Outfit Stat Sheet
| Level | Great Strength | Agility | Stamina |
| --- | --- | --- | --- |
| +0 | | | |
| +1 | | | |
| +2 | | | |
| +3 | | | |
| +4 | | | |
| +5 | | | |
| +6 | | | |
| +7 | | | |
| +8 | | | |
| +9 | | | |
| +10 | | | |
| +11 | | | |
| +12 | | | |
| +13 | | | |
| +14 | | | |
| +15 | | | |
| +16 | | | |
| +17 | | | |
| +18 | | | |
| +19 | | | |
| +20 | | | |
| +21 | | | |
| +22 | | | |
| +23 | | | |
| +24 | | | |
| +25 | | | |
| +26 | | | |
| +27 | | | |