Anime/Game Konan
This page is a page that covers Konan (Game). You might want to look at Konan (Anime)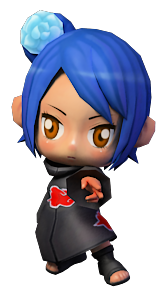 Character Name
: Konan
Konan (小南) was the only kunoichi in Akatsuki, and the partner of Nagato, being the only member to call him by his name. She became the leader of Amegakure after defecting from Akatsuki.
Playable : Yes
Gender: Female
Outfit Grade: Orange
Weapon:
Blunt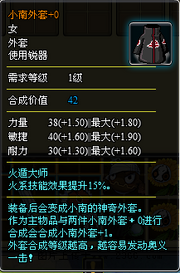 Specialty: Fire
Stats:
Great Strength: 38(+1.50)
Agility: 40(1.60)
Stamina: 30(+1.30)
10points of Great Strength increases 1% Attack and 1 point of Block.
8 points of Agility increases 1% Speed and 1 point of Dodge.
15 points of Stamina increases 1% HP and Chakra.
Fire Release Master: Fire Skills effects increased by 15%
Pockie Ninja Outfit Stat Sheet
Great Strength Agility Stamina
Suit Level +0: ║ 38 ║ 40 ║ 30 ║
Suit Level +1: ║ 53.2 ║ 56 ║ 42 ║
Suit Level +2: ║ 68.4 ║ 72 ║ 54 ║
Suit Level +3: ║ 83.6 ║ 88 ║ 66 ║
Suit Level +4: ║ 98.8 ║ 104 ║ 78 ║
Suit Level +5: ║ 114 ║ 120 ║ 90 ║
Suit Level +6: ║ 129.2 ║ 136 ║ 102 ║
Suit Level +7: ║ 144.4 ║ 152 ║ 114 ║
Suit Level +8: ║ 159.6 ║ 168 ║ 126 ║
Suit Level +9: ║ 174.8 ║ 184 ║ 138 ║
Suit Level +10: ║ 190 ║ 200 ║ 150 ║
Suit Level +11: ║ 205.2 ║ 216 ║ 162 ║
Suit Level +12: ║ 220.4 ║ 232 ║ 174 ║
Suit Level +13: ║ 235.6 ║ 248 ║ 186 ║
Suit Level +14: ║ 250.8 ║ 264 ║ 198 ║
Suit Level +15: ║ 266 ║ 280 ║ 210 ║
Suit Level +16: ║ 281.2 ║ 296 ║ 222 ║
Suit Level +17: ║ 296.4 ║ 312 ║ 234 ║
Suit Level +18: ║ 311.6 ║ 328 ║ 246 ║
Suit Level +19: ║ 326.8 ║ 344 ║ 258 ║
Suit Level +20: ║ 342 ║ 360 ║ 270 ║
Suit Level +21: ║ 357.2 ║ 376 ║ 282 ║
Suit Level +22: ║ 372.4 ║ 392 ║ 294 ║
Suit Level +23: ║ 387.6 ║ 408 ║ 306 ║
Suit Level +24: ║ 402.8 ║ 424 ║ 318 ║
Suit Level +25: ║ 418 ║ 440 ║ 330 ║
Suit Level +26: ║ 433.2 ║ 456 ║ 342 ║
Suit Level +27: ║ 448.4 ║ 472 ║ 354 ║
Pockie Ninja Outfit Stat Sheet
| Level | Great Strength | Agility | Stamina |
| --- | --- | --- | --- |
| +0 | | | |
| +1 | | | |
| +2 | | | |
| +3 | | | |
| +4 | | | |
| +5 | | | |
| +6 | | | |
| +7 | | | |
| +8 | | | |
| +9 | | | |
| +10 | | | |
| +11 | | | |
| +12 | | | |
| +13 | | | |
| +14 | | | |
| +15 | | | |
| +16 | | | |
| +17 | | | |
| +18 | | | |
| +19 | | | |
| +20 | | | |
| +21 | | | |
| +22 | | | |
| +23 | | | |
| +24 | | | |
| +25 | | | |
| +26 | | | |
| +27 | | | |