Anime/Game Kurenai
This page is a page that covers Kurenai (Game). You might want to look at Yuhi Kurenai (Anime)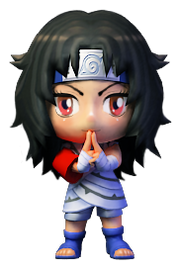 Character Name : Kurenai Yūhi Kurenai Yūhi (夕日紅) is a jonin-level kunoichi of Konohagakure. She is also the leader of Team Kurenai, which consists of Hinata Hyūga, Shino Aburame, Akamaru and Kiba Inuzuka.

Playable : Yes
Gender: Female
Outfit: Gray
Weapon:
Sharp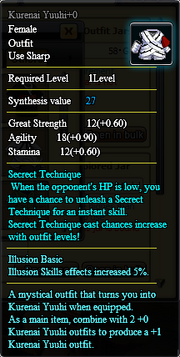 Specialty: Illusion
Stats
Great Strength: 12(+0.60)
Agility: 18 (+0.90)
Stamina: 12 (+0.60)
20 points of Great Strength increases 1% Attack and 1 point of Block.
11 points of Agility increases 1% Speed and 1 point of Dodge.
11 points of Stamina increases 1% HP and Chakra.
Skill: Illusion Basic
Illusion Skills effects increased 5%
Pockie Ninja Outfit Stat Sheet
Great Strength Agility Stamina
Suit Level +0: ║ 12 ║ 18 ║ 12 ║
Suit Level +1: ║ 16.8 ║ 25.2 ║ 16.8 ║
Suit Level +2: ║ 21.6 ║ 32.4 ║ 21.6 ║
Suit Level +3: ║ 26.4 ║ 39.6 ║ 26.4 ║
Suit Level +4: ║ 31.2 ║ 46.8 ║ 31.2 ║
Suit Level +5: ║ 36 ║ 54 ║ 36 ║
Suit Level +6: ║ 40.8 ║ 61.2 ║ 40.8 ║
Suit Level +7: ║ 45.6 ║ 68.4 ║ 45.6 ║
Suit Level +8: ║ 50.4 ║ 75.6 ║ 50.4 ║
Suit Level +9: ║ 55.2 ║ 82.8 ║ 55.2 ║
Suit Level +10: ║ 60 ║ 90 ║ 60 ║
Suit Level +11: ║ 64.8 ║ 97.2 ║ 64.8 ║
Suit Level +12: ║ 69.6 ║ 104.4 ║ 69.6 ║
Suit Level +13: ║ 74.4 ║ 111.6 ║ 74.4 ║
Suit Level +14: ║ 79.2 ║ 118.8 ║ 79.2 ║
Suit Level +15: ║ 84 ║ 126 ║ 84 ║
Suit Level +16: ║ 88.8 ║ 133.2 ║ 88.8 ║
Suit Level +17: ║ 93.6 ║ 140.4 ║ 93.6 ║
Suit Level +18: ║ 98.4 ║ 147.6 ║ 98.4 ║
Suit Level +19: ║ 103.2 ║ 154.8 ║ 103.2 ║
Suit Level +20: ║ 108 ║ 162 ║ 108 ║
Suit Level +21: ║ 112.8 ║ 169.2 ║ 112.8 ║
Suit Level +22: ║ 117.6 ║ 176.4 ║ 117.6 ║
Suit Level +23: ║ 122.4 ║ 183.6 ║ 122.4 ║
Suit Level +24: ║ 127.2 ║ 190.8 ║ 127.2 ║
Suit Level +25: ║ 132 ║ 198 ║ 132 ║
Suit Level +26: ║ 136.8 ║ 205.2 ║ 136.8 ║
Suit Level +27: ║ 141.6 ║ 212.4 ║ 141.6 ║
Pockie Ninja Outfit Stat Sheet
Edit
| Level | Great Strength | Agility | Stamina |
| --- | --- | --- | --- |
| +0 | | | |
| +1 | | | |
| +2 | | | |
| +3 | | | |
| +4 | | | |
| +5 | | | |
| +6 | | | |
| +7 | | | |
| +8 | | | |
| +9 | | | |
| +10 | | | |
| +11 | | | |
| +12 | | | |
| +13 | | | |
| +14 | | | |
| +15 | | | |
| +16 | | | |
| +17 | | | |
| +18 | | | |
| +19 | | | |
| +20 | | | |
| +21 | | | |
| +22 | | | |
| +23 | | | |
| +24 | | | |
| +25 | | | |
| +26 | | | |
| +27 | | | |