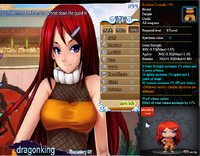 Kushina Uzumaki ​
is a member of the Uzumaki Clan, and wife to the 4th Hokage- Minato Namikaze- and the mom of Naruto, the Jinchūriki of the Nine-Tails, whom she was the host for, too.
(To Minato)  "Naruto...It's a beautiful name."
Please note that the following stats are for +30.
Great Strength: 500+1.55) || Max (+1.85)
Agility: 500(+1.20) || Max (+1.50)
Stamina: 500 (+1.30) || Max (+1.60)
Obtain Methods
Edit
Ali Babba Treasure
(The Main Method) (The Outfit is at +18)
Top-up Events- Outfits
(Possible) (Over)
Community content is available under
CC-BY-SA
unless otherwise noted.