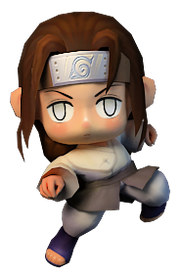 Character Name: Neji Hyūga
Neji Hyūga is a part of the Konoha eleven. He is one of the main supporting characters of Naruto. He is a part of the second branch of his family due to his father being the second born. And because he is a part of the second branch, he wears a symbol on his forehead which is nearly always covered by the his forehead protecter.
Playable : Yes
Gender: Male
Outfit: Blue
Weapon: Fists
Specialty:
Vitality
Stats
Great Strength: 22 (+1.10)
Agility: 22 (+1.10)
Stamina: 16 (+0.80)
13 points of Great Strength increases 1% Attack and 1 point of Block.
13 points of Agility increases 1% Speed and 1 point of Dodge.
13 points of Stamina increases 1% HP and Chakra.
Skill: Vitality Master
Vitality Skills effects increase 10%
Pockie Ninja Outfit Stat Sheet
Great Strength Agility Stamina
Suit Level +0: ║ 22 ║ 22 ║ 16 ║
Suit Level +1: ║ 30.8 ║ 30.8 ║ 22.4 ║
Suit Level +2: ║ 39.6 ║ 39.6 ║ 28.8 ║
Suit Level +3: ║ 48.4 ║ 48.4 ║ 35.2 ║
Suit Level +4: ║ 57.2 ║ 57.2 ║ 41.6 ║
Suit Level +5: ║ 66 ║ 66 ║ 48 ║
Suit Level +6: ║ 74.8 ║ 74.8 ║ 54.4 ║
Suit Level +7: ║ 83.6 ║ 83.6 ║ 60.8 ║
Suit Level +8: ║ 92.4 ║ 92.4 ║ 67.2 ║
Suit Level +9: ║ 101.2 ║ 101.2 ║ 73.6 ║
Suit Level +10: ║ 110 ║ 110 ║ 80 ║
Suit Level +11: ║ 118.8 ║ 118.8 ║ 86.4 ║
Suit Level +12: ║ 127.6 ║ 127.6 ║ 92.8 ║
Suit Level +13: ║ 136.4 ║ 136.4 ║ 99.2 ║
Suit Level +14: ║ 145.2 ║ 145.2 ║ 105.6 ║
Suit Level +15: ║ 154 ║ 154 ║ 112 ║
Suit Level +16: ║ 162.8 ║ 162.8 ║ 118.4 ║
Suit Level +17: ║ 171.6 ║ 171.6 ║ 124.8 ║
Suit Level +18: ║ 180.4 ║ 180.4 ║ 131.2 ║
Suit Level +19: ║ 189.2 ║ 189.2 ║ 137.6 ║
Suit Level +20: ║ 198 ║ 198 ║ 144 ║
Suit Level +21: ║ 206.8 ║ 206.8 ║ 150.4 ║
Suit Level +22: ║ 215.6 ║ 215.6 ║ 156.8 ║
Suit Level +23: ║ 224.4 ║ 224.4 ║ 163.2 ║
Suit Level +24: ║ 233.2 ║ 233.2 ║ 169.6 ║
Suit Level +25: ║ 242 ║ 242 ║ 176 ║
Suit Level +26: ║ 250.8 ║ 250.8 ║ 182.4 ║
Suit Level +27: ║ 259.6 ║ 259.6 ║ 188.8 ║
Pockie Ninja Outfit Stat Sheet
| Level | Great Strength | Agility | Stamina |
| --- | --- | --- | --- |
| +0 | | | |
| +1 | | | |
| +2 | | | |
| +3 | | | |
| +4 | | | |
| +5 | | | |
| +6 | | | |
| +7 | | | |
| +8 | | | |
| +9 | | | |
| +10 | | | |
| +11 | | | |
| +12 | | | |
| +13 | | | |
| +14 | | | |
| +15 | | | |
| +16 | | | |
| +17 | | | |
| +18 | | | |
| +19 | | | |
| +20 | | | |
| +21 | | | |
| +22 | | | |
| +23 | | | |
| +24 | | | |
| +25 | | | |
| +26 | | | |
| +27 | | | |