Character Name : Orochimaru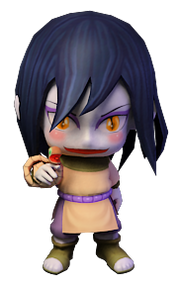 One of the three legendary Sannin along with Jiraiya and Tsunade. Orochimaru can summon snakes and develops forbbiden jutsus. In the anime, he is one of the antagonists, being the one who attaches the cursed mark onto Sasuke in an attempt to later claim his body as his own, which was foiled and he was consumed by Sasuke and Kabuto. In Naruto Shippuden, his snake beast jutsu was destoyed by Itachi using Susano and burned with Amaretsu. Orochimaru has not yet been classified as dead.
Playable : Yes
Gender: Male
Outfit:
Orange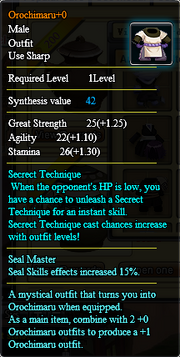 Weapon: Sharp
Specialty: Seal
Stats
Great Strength: 25(+1.25) BMV=22.69230769
13 points of Great Strength increases 1% Attack and 1 point of Block.
Agility: 22(+1.10) BMV=16.225
12 points of Agility increases 1% Speed and 1 point of Dodge.
Stamina: 26(+1.30) BMV=27.89090909
11 points of Stamina increases 1% HP and Chakra.
Skill: Seal Release Expert
Seal Release Skills effects increase 15%
Great Strength Agility Stamina
Suit Level +0: ║ 25 ║ 22 ║ 26 ║
Suit Level +1: ║ 35 ║ 30.8 ║ 36.4 ║
Suit Level +2: ║ 45 ║ 39.6 ║ 46.8 ║
Suit Level +3: ║ 55 ║ 48.4 ║ 57.2 ║
Suit Level +4: ║ 65 ║ 57.2 ║ 67.6 ║
Suit Level +5: ║ 75 ║ 66 ║ 78 ║
Suit Level +6: ║ 85 ║ 74.8 ║ 88.4 ║
Suit Level +7: ║ 95 ║ 83.6 ║ 98.8 ║
Suit Level +8: ║ 105 ║ 92.4 ║ 109.2 ║
Suit Level +9: ║ 115 ║ 101.2 ║ 119.6 ║
Suit Level +10: ║ 125 ║ 110 ║ 130 ║
Suit Level +11: ║ 135 ║ 118.8 ║ 140.4 ║
Suit Level +12: ║ 145 ║ 127.6 ║ 150.8 ║
Suit Level +13: ║ 155 ║ 136.4 ║ 161.2 ║
Suit Level +14: ║ 165 ║ 145.2 ║ 171.6 ║
Suit Level +15: ║ 175 ║ 154 ║ 182 ║
Suit Level +16: ║ 185 ║ 162.8 ║ 192.4 ║
Suit Level +17: ║ 195 ║ 171.6 ║ 202.8 ║
Suit Level +18: ║ 205 ║ 180.4 ║ 213.2 ║
Suit Level +19: ║ 215 ║ 189.2 ║ 223.6 ║
Suit Level +20: ║ 225 ║ 198 ║ 234 ║
Suit Level +21: ║ 235 ║ 206.8 ║ 244.4 ║
Suit Level +22: ║ 245 ║ 215.6 ║ 254.8 ║
Suit Level +23: ║ 255 ║ 224.4 ║ 265.2 ║
Suit Level +24: ║ 265 ║ 233.2 ║ 275.6 ║
Suit Level +25: ║ 275 ║ 242 ║ 286 ║
Suit Level +26: ║ 285 ║ 250.8 ║ 296.4 ║
Suit Level +27: ║ 295 ║ 259.6 ║ 306.8 ║
Pockie Ninja Outfit Stat Sheet
| Level | Great Strength | Agility | Stamina |
| --- | --- | --- | --- |
| +0 | | | |
| +1 | | | |
| +2 | | | |
| +3 | | | |
| +4 | | | |
| +5 | | | |
| +6 | | | |
| +7 | | | |
| +8 | | | |
| +9 | | | |
| +10 | | | |
| +11 | | | |
| +12 | | | |
| +13 | | | |
| +14 | | | |
| +15 | | | |
| +16 | | | |
| +17 | | | |
| +18 | | | |
| +19 | | | |
| +20 | | | |
| +21 | | | |
| +22 | | | |
| +23 | | | |
| +24 | | | |
| +25 | | | |
| +26 | | | |
| +27 | | | |