{{{Title}}}
| | |
| --- | --- |
| SPECIALITY | {{{speciality}}} |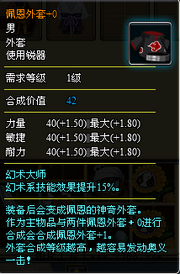 Nagato (長門), also known as Pain (ペイン), was the recognised leader of Akatsuki and Amegakure and was a major antagonist in the series. Referred to as "Leader" by all Akatsuki members, except for Konan, he directed the actions of the rest of the members and maintained authority over them. However, he had secretly collaborated with Madara Uchiha.

Stats:
Great Strength: 40(+1.80)
11points of Great Strength increases 1% Attack and 1 point of Block.
Agility: 40(1.80)
11 points of Agility increases 1% Speed and 1 point of Dodge.
Stamina: 40(+1.80)
10 points of Stamina increases 1% HP and Chakra.
Illusion Master:
Illusion skills effects increase 15%
Pain Stat Sheet
Great Strength Agility Stamina
Suit Level +0: ║ 40 ║ 40 ║ 40 ║
Suit Level +1: ║ 56 ║ 56 ║ 56 ║
Suit Level +2: ║ 72 ║ 72 ║ 72 ║
Suit Level +3: ║ 88 ║ 88 ║ 88 ║
Suit Level +4: ║ 104 ║ 104 ║ 104 ║
Suit Level +5: ║ 120 ║ 120 ║ 120 ║
Suit Level +6: ║ 136 ║ 136 ║ 136 ║
Suit Level +7: ║ 152 ║ 152 ║ 152 ║
Suit Level +8: ║ 168 ║ 168 ║ 168 ║
Suit Level +9: ║ 184 ║ 184 ║ 184 ║
Suit Level +10: ║ 200 ║ 200 ║ 200 ║
Suit Level +11: ║ 216 ║ 216 ║ 216 ║
Suit Level +12: ║ 232 ║ 232 ║ 232 ║
Suit Level +13: ║ 248 ║ 248 ║ 248 ║
Suit Level +14: ║ 264 ║ 264 ║ 264 ║
Suit Level +15: ║ 280 ║ 280 ║ 280 ║
Suit Level +16: ║ 296 ║ 296 ║ 296 ║
Suit Level +17: ║ 312 ║ 312 ║ 312 ║
Suit Level +18: ║ 328 ║ 328 ║ 328 ║
Suit Level +19: ║ 344 ║ 344 ║ 344 ║
Suit Level +20: ║ 360 ║ 360 ║ 360 ║
Suit Level +21: ║ 376 ║ 376 ║ 376 ║
Suit Level +22: ║ 392 ║ 392 ║ 392 ║
Suit Level +23: ║ 408 ║ 408 ║ 408 ║
Suit Level +24: ║ 424 ║ 424 ║ 424 ║
Suit Level +25: ║ 440 ║ 440 ║ 440 ║
Suit Level +26: ║ 456 ║ 456 ║ 456 ║
Suit Level +27: ║ 472 ║ 472 ║ 472 ║
Pockie Ninja Outfit Stat Sheet
| Level | Great Strength | Agility | Stamina |
| --- | --- | --- | --- |
| +0 | | | |
| +1 | | | |
| +2 | | | |
| +3 | | | |
| +4 | | | |
| +5 | | | |
| +6 | | | |
| +7 | | | |
| +8 | | | |
| +9 | | | |
| +10 | | | |
| +11 | | | |
| +12 | | | |
| +13 | | | |
| +14 | | | |
| +15 | | | |
| +16 | | | |
| +17 | | | |
| +18 | | | |
| +19 | | | |
| +20 | | | |
| +21 | | | |
| +22 | | | |
| +23 | | | |
| +24 | | | |
| +25 | | | |
| +26 | | | |
| +27 | | | |