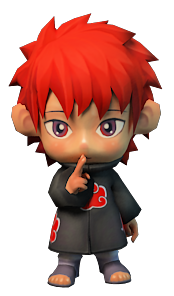 Scorpion (AKA Sasori) is a villan in Naruto, he came from Suna ( Hidden Sand Village ) His whole body is a puppet except for a core that contains his heart. He uses chakara strings alike Kankuro to control other puppets. He is in the Akatsuki but, is killed by Sakura in a later battle of Sakura and Chiyo vs Scorpion.
Playable : Yes
Gender: Male
Outfit: Blue
Weapon: Blunt
Specialty
: Ninja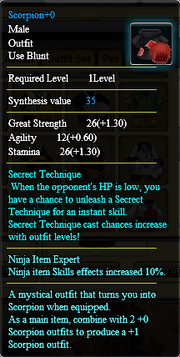 Stats
Great Strength: 26 (+1.30)
Agility: 12 (+0.60)
Stamina: 26 (+1.30)
10 points of Great Strength increases 1% Attack and 1 point of Block.
22 points of Agility increases 1% Speed and 1 point of Dodge.
9 points of Stamina increases 1% HP and Chakra.
Skill: Item Master
Ninja item skills increase 10%
Pockie Ninja Outfit Stat Sheet
Great Strength Agility Stamina
Suit Level +0: ║ 26 ║ 12 ║ 26 ║
Suit Level +1: ║ 36.4 ║ 16.8 ║ 36.4 ║
Suit Level +2: ║ 46.8 ║ 21.6 ║ 46.8 ║
Suit Level +3: ║ 57.2 ║ 26.4 ║ 57.2 ║
Suit Level +4: ║ 67.6 ║ 31.2 ║ 67.6 ║
Suit Level +5: ║ 78 ║ 36 ║ 78 ║
Suit Level +6: ║ 88.4 ║ 40.8 ║ 88.4 ║
Suit Level +7: ║ 98.8 ║ 45.6 ║ 98.8 ║
Suit Level +8: ║ 109.2 ║ 50.4 ║ 109.2 ║
Suit Level +9: ║ 119.6 ║ 55.2 ║ 119.6 ║
Suit Level +10: ║ 130 ║ 60 ║ 130 ║
Suit Level +11: ║ 140.4 ║ 64.8 ║ 140.4 ║
Suit Level +12: ║ 150.8 ║ 69.6 ║ 150.8 ║
Suit Level +13: ║ 161.2 ║ 74.4 ║ 161.2 ║
Suit Level +14: ║ 171.6 ║ 79.2 ║ 171.6 ║
Suit Level +15: ║ 182 ║ 84 ║ 182 ║
Suit Level +16: ║ 192.4 ║ 88.8 ║ 192.4 ║
Suit Level +17: ║ 202.8 ║ 93.6 ║ 202.8 ║
Suit Level +18: ║ 213.2 ║ 98.4 ║ 213.2 ║
Suit Level +19: ║ 223.6 ║ 103.2 ║ 223.6 ║
Suit Level +20: ║ 234 ║ 108 ║ 234 ║
Suit Level +21: ║ 244.4 ║ 112.8 ║ 244.4 ║
Suit Level +22: ║ 254.8 ║ 117.6 ║ 254.8 ║
Suit Level +23: ║ 265.2 ║ 122.4 ║ 265.2 ║
Suit Level +24: ║ 275.6 ║ 127.2 ║ 275.6 ║
Suit Level +25: ║ 286 ║ 132 ║ 286 ║
Suit Level +26: ║ 296.4 ║ 136.8 ║ 296.4 ║
Suit Level +27: ║ 306.8 ║ 141.6 ║ 306.8 ║
Pockie Ninja Outfit Stat Sheet
| Level | Great Strength | Agility | Stamina |
| --- | --- | --- | --- |
| +0 | | | |
| +1 | | | |
| +2 | | | |
| +3 | | | |
| +4 | | | |
| +5 | | | |
| +6 | | | |
| +7 | | | |
| +8 | | | |
| +9 | | | |
| +10 | | | |
| +11 | | | |
| +12 | | | |
| +13 | | | |
| +14 | | | |
| +15 | | | |
| +16 | | | |
| +17 | | | |
| +18 | | | |
| +19 | | | |
| +20 | | | |
| +21 | | | |
| +22 | | | |
| +23 | | | |
| +24 | | | |
| +25 | | | |
| +26 | | | |
| +27 | | | |