"

What a drag.

"

—Shikamaru Nara, Naruto
Shikamaru is the heir to the Nara clan. He has an IQ of over 200 and because of such, is well known for his stragetic skills. He likes to play Shogi and often plays it with his sensei or his father. He is also part of the rookie nine. His jutsu is shadow manipulation. Such as, Shadow sewing and Shadow strangle. He can also use his shadow to pick up objects such as Kunais and throw them. Just as he can control ones shadow through a special Kunai that once belonged to his sensei by putting his chakra into the weapon.
Stats
Great Strength: 16 (+0.80)
Agility: 16 (+0.80)
Stamina: 16 (+0.80)
14 points of Great Strength increases 1% Attack and 1 point of Block.
14 points of Agility increases 1% Speed and 1 point of Dodge.
12 points of Stamina increases 1% HP and Chakra.
Skill: Illusion Basic
Illusion Basic skills effects increased by 5%
Pockie Ninja Outfit Stat Sheet
Great Strength Agility Stamina
Suit Level +0: ║ 16 ║ 16 ║ 16 ║
Suit Level +1: ║ 22.4 ║ 22.4 ║ 22.4 ║
Suit Level +2: ║ 28.8 ║ 28.8 ║ 28.8 ║
Suit Level +3: ║ 35.2 ║ 35.2 ║ 35.2 ║
Suit Level +4: ║ 41.6 ║ 41.6 ║ 41.6 ║
Suit Level +5: ║ 48 ║ 48 ║ 48 ║
Suit Level +6: ║ 54.4 ║ 54.4 ║ 54.4 ║
Suit Level +7: ║ 60.8 ║ 60.8 ║ 60.8 ║
Suit Level +8: ║ 67.2 ║ 67.2 ║ 67.2 ║
Suit Level +9: ║ 73.6 ║ 73.6 ║ 73.6 ║
Suit Level +10: ║ 80 ║ 80 ║ 80 ║
Suit Level +11: ║ 86.4 ║ 86.4 ║ 86.4 ║
Suit Level +12: ║ 92.8 ║ 92.8 ║ 92.8 ║
Suit Level +13: ║ 99.2 ║ 99.2 ║ 99.2 ║
Suit Level +14: ║ 105.6 ║ 105.6 ║ 105.6 ║
Suit Level +15: ║ 112 ║ 112 ║ 112 ║
Suit Level +16: ║ 118.4 ║ 118.4 ║ 118.4 ║
Suit Level +17: ║ 124.8 ║ 124.8 ║ 124.8 ║
Suit Level +18: ║ 131.2 ║ 131.2 ║ 131.2 ║
Suit Level +19: ║ 137.6 ║ 137.6 ║ 137.6 ║
Suit Level +20: ║ 144 ║ 144 ║ 144 ║
Suit Level +21: ║ 150.4 ║ 150.4 ║ 150.4 ║
Suit Level +22: ║ 156.8 ║ 156.8 ║ 156.8 ║
Suit Level +23: ║ 163.2 ║ 163.2 ║ 163.2 ║
Suit Level +24: ║ 169.6 ║ 169.6 ║ 169.6 ║
Suit Level +25: ║ 176 ║ 176 ║ 176 ║
Suit Level +26: ║ 182.4 ║ 182.4 ║ 182.4 ║
Suit Level +27: ║ 188.8 ║ 188.8 ║ 188.8 ║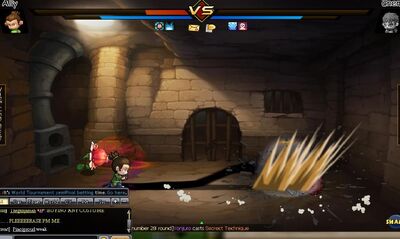 Pockie Ninja Outfit Stat Sheet
| Level | Great Strength | Agility | Stamina |
| --- | --- | --- | --- |
| +0 | | | |
| +1 | | | |
| +2 | | | |
| +3 | | | |
| +4 | | | |
| +5 | | | |
| +6 | | | |
| +7 | | | |
| +8 | | | |
| +9 | | | |
| +10 | | | |
| +11 | | | |
| +12 | | | |
| +13 | | | |
| +14 | | | |
| +15 | | | |
| +16 | | | |
| +17 | | | |
| +18 | | | |
| +19 | | | |
| +20 | | | |
| +21 | | | |
| +22 | | | |
| +23 | | | |
| +24 | | | |
| +25 | | | |
| +26 | | | |
| +27 | | | |