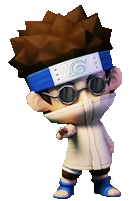 Character Name: Shino Aburame
Shino is the heir to the Aburame clan. Not much is known about the clan other than they wear high collared coats, sunglasses and use kikaichu as thier weapon. Shino is the silent and mysterious type who tends to be in the back and not draw any attention towards himself. He's also uses stragety in battle along with his kikaichu which makes him a very formidable opponent.
Playable:
Yes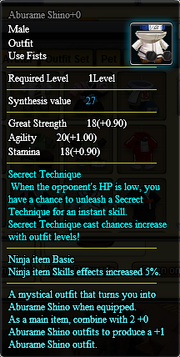 Gender: Male
Outfit: Grey
Weapon: Fists
Specialty: Ninja

Stats
Great Strength: 18 (+0.90)
Agility: 20 (+1.00)
Stamina: 18 (+0.90)
17 points of Great Strength increases 1% Attack and 1 point of Block.
11 points of Agility increases 1% Speed and 1 point of Dodge.
11 points of Stamina increases 1% HP and Chakra.
Skill: Ninja Item Basic
Ninja Item Skills effects increased 5%
Pockie Ninja Outfit Stat Sheet
Great Strength Agility Stamina
Suit Level +0: ║ 18 ║ 20 ║ 18 ║
Suit Level +1: ║ 25.2 ║ 28 ║ 25.2 ║
Suit Level +2: ║ 32.4 ║ 36 ║ 32.4 ║
Suit Level +3: ║ 39.6 ║ 44 ║ 39.6 ║
Suit Level +4: ║ 46.8 ║ 52 ║ 46.8 ║
Suit Level +5: ║ 54 ║ 60 ║ 54 ║
Suit Level +6: ║ 61.2 ║ 68 ║ 61.2 ║
Suit Level +7: ║ 68.4 ║ 76 ║ 68.4 ║
Suit Level +8: ║ 75.6 ║ 84 ║ 75.6 ║
Suit Level +9: ║ 82.8 ║ 92 ║ 82.8 ║
Suit Level +10: ║ 90 ║ 100 ║ 90 ║
Suit Level +11: ║ 97.2 ║ 108 ║ 97.2 ║
Suit Level +12: ║ 104.4 ║ 116 ║ 104.4 ║
Suit Level +13: ║ 111.6 ║ 124 ║ 111.6 ║
Suit Level +14: ║ 118.8 ║ 132 ║ 118.8 ║
Suit Level +15: ║ 126 ║ 140 ║ 126 ║
Suit Level +16: ║ 133.2 ║ 148 ║ 133.2 ║
Suit Level +17: ║ 140.4 ║ 156 ║ 140.4 ║
Suit Level +18: ║ 147.6 ║ 164 ║ 147.6 ║
Suit Level +19: ║ 154.8 ║ 172 ║ 154.8 ║
Suit Level +20: ║ 162 ║ 180 ║ 162 ║
Suit Level +21: ║ 169.2 ║ 188 ║ 169.2 ║
Suit Level +22: ║ 176.4 ║ 196 ║ 176.4 ║
Suit Level +23: ║ 183.6 ║ 204 ║ 183.6 ║
Suit Level +24: ║ 190.8 ║ 212 ║ 190.8 ║
Suit Level +25: ║ 198 ║ 220 ║ 198 ║
Suit Level +26: ║ 205.2 ║ 228 ║ 205.2 ║
Suit Level +27: ║ 212.4 ║ 236 ║ 212.4 ║
(Stats Courtesy of SwagS19)