Skill Name: Sunset
Skill Picture:

Damage:NaN
Skill Effect:Chance to deal double damage during five element attribute attacks. Chances will rise as battle prolongs.
Duration:Ongoing
Launch Timing:Activated on combat
Requirements:NaN
Proc-rate:100%
Limitation:Cannot coexist with the effect of mist-hide.
Chakra Consumption:115
Description:Spread Chakra on the battlegrounds to strengthen the controllability over five elements,and attack the enemy's weaknesses more accurately.
In game pic: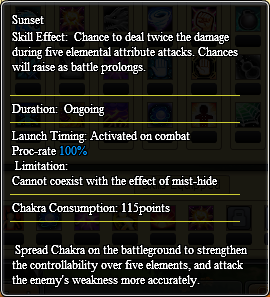 Community content is available under
CC-BY-SA
unless otherwise noted.