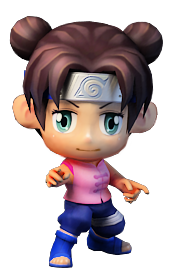 Character Name:
Tenten
Tenten (テンテン) is a supporting character of the series. She is a chūnin-level kunoichi of Konohagakure and member of Team Guy.
Playable: Yes
Gender: Female
Outfit
: Gray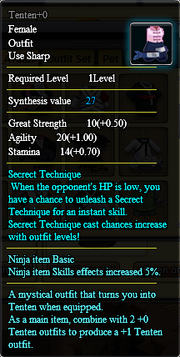 Weapon: Sharp
Specialty: Ninja Items

Stats:
Great Strength: 10 (+0.50)
Agility: 20 (+1.00)
Stamina: 14 (+0.70)
17 points of Great Strength increases 1% Attack and 1 point of Block.
11 points of Agility increases 1% Speed and 1 point of Dodge.
13 points of Stamina increases 1% HP and Chakra.
Skill: Ninja Item Basic
All ninja item skills effects increased by 5%.
Pockie Ninja Outfit Stat Sheet
Great Strength Agility Stamina
Suit Level +0: ║ 10 ║ 20 ║ 14 ║
Suit Level +1: ║ 14 ║ 28 ║ 19.6 ║
Suit Level +2: ║ 18 ║ 36 ║ 25.2 ║
Suit Level +3: ║ 22 ║ 44 ║ 30.8 ║
Suit Level +4: ║ 26 ║ 52 ║ 36.4 ║
Suit Level +5: ║ 30 ║ 60 ║ 42 ║
Suit Level +6: ║ 34 ║ 68 ║ 47.6 ║
Suit Level +7: ║ 38 ║ 76 ║ 53.2 ║
Suit Level +8: ║ 42 ║ 84 ║ 58.8 ║
Suit Level +9: ║ 46 ║ 92 ║ 64.4 ║
Suit Level +10: ║ 50 ║ 100 ║ 70 ║
Suit Level +11: ║ 54 ║ 108 ║ 75.6 ║
Suit Level +12: ║ 58 ║ 116 ║ 81.2 ║
Suit Level +13: ║ 62 ║ 124 ║ 86.8 ║
Suit Level +14: ║ 66 ║ 132 ║ 92.4 ║
Suit Level +15: ║ 70 ║ 140 ║ 98 ║
Suit Level +16: ║ 74 ║ 148 ║ 103.6 ║
Suit Level +17: ║ 78 ║ 156 ║ 109.2 ║
Suit Level +18: ║ 82 ║ 164 ║ 114.8 ║
Suit Level +19: ║ 86 ║ 172 ║ 120.4 ║
Suit Level +20: ║ 90 ║ 180 ║ 126 ║
Suit Level +21: ║ 94 ║ 188 ║ 131.6 ║
Suit Level +22: ║ 98 ║ 196 ║ 137.2 ║
Suit Level +23: ║ 102 ║ 204 ║ 142.8 ║
Suit Level +24: ║ 106 ║ 212 ║ 148.4 ║
Suit Level +25: ║ 110 ║ 220 ║ 154 ║
Suit Level +26: ║ 114 ║ 228 ║ 159.6 ║
Suit Level +27: ║ 118 ║ 236 ║ 165.2 ║
Pockie Ninja Outfit Stat Sheet
| Level | Great Strength | Agility | Stamina |
| --- | --- | --- | --- |
| +0 | | | |
| +1 | | | |
| +2 | | | |
| +3 | | | |
| +4 | | | |
| +5 | | | |
| +6 | | | |
| +7 | | | |
| +8 | | | |
| +9 | | | |
| +10 | | | |
| +11 | | | |
| +12 | | | |
| +13 | | | |
| +14 | | | |
| +15 | | | |
| +16 | | | |
| +17 | | | |
| +18 | | | |
| +19 | | | |
| +20 | | | |
| +21 | | | |
| +22 | | | |
| +23 | | | |
| +24 | | | |
| +25 | | | |
| +26 | | | |
| +27 | | | |