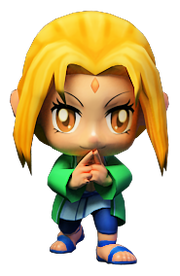 Character Name: Tsunade
Tsunade (綱手') is the Fifth Hokage of Konoha. She took on the position after the death of her teacher, Hiruzen Sarutobi. She, along with Orochimaru and Jiraiya, are recognized as "The Legendary Sannin of Konoha". In Part Two of 'Naruto' she took Sakura as her apprentice as well as Ino.
Playable: Yes
Gender: Female
Outfit: Orange
Weapon:
Fists

Stats
Great Strength: 30 (+1.50)
Agility: 14 (+0.70)
Stamina: 28 (+1.40)
12 points of Great Strength increases 1% Attack and 1 point of Block.
17 points of Agility increases 1% Speed and 1 point of Dodge.
11 points of Stamina increases 1% HP and Chakra.
Skill: Healing Master (Heal skills + 15%)
Pockie Ninja Outfit Stat Sheet
Great Strength Agility Stamina
Suit Level +0: ║ 30 ║ 14 ║ 28 ║
Suit Level +1: ║ 42 ║ 19.6 ║ 39.2 ║
Suit Level +2: ║ 54 ║ 25.2 ║ 50.4 ║
Suit Level +3: ║ 66 ║ 30.8 ║ 61.6 ║
Suit Level +4: ║ 78 ║ 36.4 ║ 72.8 ║
Suit Level +5: ║ 90 ║ 42 ║ 84 ║
Suit Level +6: ║ 102 ║ 47.6 ║ 95.2 ║
Suit Level +7: ║ 114 ║ 53.2 ║ 106.4 ║
Suit Level +8: ║ 126 ║ 58.8 ║ 117.6 ║
Suit Level +9: ║ 138 ║ 64.4 ║ 128.8 ║
Suit Level +10: ║ 150 ║ 70 ║ 140 ║
Suit Level +11: ║ 162 ║ 75.6 ║ 151.2 ║
Suit Level +12: ║ 174 ║ 81.2 ║ 162.4 ║
Suit Level +13: ║ 186 ║ 86.8 ║ 173.6 ║
Suit Level +14: ║ 198 ║ 92.4 ║ 184.8 ║
Suit Level +15: ║ 210 ║ 98 ║ 196 ║
Suit Level +16: ║ 222 ║ 103.6 ║ 207.2 ║
Suit Level +17: ║ 234 ║ 109.2 ║ 218.4 ║
Suit Level +18: ║ 246 ║ 114.8 ║ 229.6 ║
Suit Level +19: ║ 258 ║ 120.4 ║ 240.8 ║
Suit Level +20: ║ 270 ║ 126 ║ 252 ║
Suit Level +21: ║ 282 ║ 131.6 ║ 263.2 ║
Suit Level +22: ║ 294 ║ 137.2 ║ 274.4 ║
Suit Level +23: ║ 306 ║ 142.8 ║ 285.6 ║
Suit Level +24: ║ 318 ║ 148.4 ║ 296.8 ║
Suit Level +25: ║ 330 ║ 154 ║ 308 ║
Suit Level +26: ║ 342 ║ 159.6 ║ 319.2 ║
Suit Level +27: ║ 354 ║ 165.2 ║ 330.4 ║
Pockie Ninja Outfit Stat Sheet
| Level | Great Strength | Agility | Stamina |
| --- | --- | --- | --- |
| +0 | | | |
| +1 | | | |
| +2 | | | |
| +3 | | | |
| +4 | | | |
| +5 | | | |
| +6 | | | |
| +7 | | | |
| +8 | | | |
| +9 | | | |
| +10 | | | |
| +11 | | | |
| +12 | | | |
| +13 | | | |
| +14 | | | |
| +15 | | | |
| +16 | | | |
| +17 | | | |
| +18 | | | |
| +19 | | | |
| +20 | | | |
| +21 | | | |
| +22 | | | |
| +23 | | | |
| +24 | | | |
| +25 | | | |
| +26 | | | |
| +27 | | | |