Character Name: Ulquiorra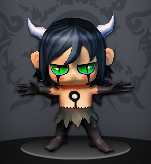 Ulquiorra Cifer is Espada Cuatro (4) in Aizen's army of Arrancar. This form of Ulquiorra is his second and strongest stage, which no other Arrancar has achieved since.
Playable : Yes
Gender: Male
Weapon: Sharp
Specialty: Heal
Stats
Great Strength 18(+0.90)
Agility 21(+1.05)
Stamina 21(+1.30)
13 points of Great Strength increases 1% Attack and 1 point of Block.
22 points of Agility increases 1% Speed and 1 point of Dodge.
8 points of Stamina increases 1% HP and Chakra.
Skill: Healing Expert
Healing Skills Effect Increased 10%
Pockie Ninja Outfit Stat Sheet
Great Strength Agility Stamina
Suit Level +0: ║ 18 ║ 21 ║ 21 ║
Suit Level +1: ║ 25.2 ║ 29.4 ║ 29.4 ║
Suit Level +2: ║ 32.4 ║ 37.8 ║ 37.8 ║
Suit Level +3: ║ 39.6 ║ 46.2 ║ 46.2 ║
Suit Level +4: ║ 46.8 ║ 54.6 ║ 54.6 ║
Suit Level +5: ║ 54 ║ 63 ║ 63 ║
Suit Level +6: ║ 61.2 ║ 71.4 ║ 71.4 ║
Suit Level +7: ║ 68.4 ║ 79.8 ║ 79.8 ║
Suit Level +8: ║ 75.6 ║ 88.2 ║ 88.2 ║
Suit Level +9: ║ 82.8 ║ 96.6 ║ 96.6 ║
Suit Level +10: ║ 90 ║ 105 ║ 105 ║
Suit Level +11: ║ 97.2 ║ 113.4 ║ 113.4 ║
Suit Level +12: ║ 104.4 ║ 121.8 ║ 121.8 ║
Suit Level +13: ║ 111.6 ║ 130.2 ║ 130.2 ║
Suit Level +14: ║ 118.8 ║ 138.6 ║ 138.6 ║
Suit Level +15: ║ 126 ║ 147 ║ 147 ║
Suit Level +16: ║ 133.2 ║ 155.4 ║ 155.4 ║
Suit Level +17: ║ 140.4 ║ 163.8 ║ 163.8 ║
Suit Level +18: ║ 147.6 ║ 172.2 ║ 172.2 ║
Suit Level +19: ║ 154.8 ║ 180.6 ║ 180.6 ║
Suit Level +20: ║ 162 ║ 189 ║ 189 ║
Suit Level +21: ║ 169.2 ║ 197.4 ║ 197.4 ║
Suit Level +22: ║ 176.4 ║ 205.8 ║ 205.8 ║
Suit Level +23: ║ 183.6 ║ 214.2 ║ 214.2 ║
Suit Level +24: ║ 190.8 ║ 222.6 ║ 222.6 ║
Suit Level +25: ║ 198 ║ 231 ║ 231 ║
Suit Level +26: ║ 205.2 ║ 239.4 ║ 239.4 ║
Suit Level +27: ║ 212.4 ║ 247.8 ║ 247.8 ║
Pockie Ninja Outfit Stat Sheet
Edit
| Level | Great Strength | Agility | Stamina |
| --- | --- | --- | --- |
| +0 | | | |
| +1 | | | |
| +2 | | | |
| +3 | | | |
| +4 | | | |
| +5 | | | |
| +6 | | | |
| +7 | | | |
| +8 | | | |
| +9 | | | |
| +10 | | | |
| +11 | | | |
| +12 | | | |
| +13 | | | |
| +14 | | | |
| +15 | | | |
| +16 | | | |
| +17 | | | |
| +18 | | | |
| +19 | | | |
| +20 | | | |
| +21 | | | |
| +22 | | | |
| +23 | | | |
| +24 | | | |
| +25 | | | |
| +26 | | | |
| +27 | | | |