Skill Name: Water Colliding Wave
Skill Picture:

Damage:250%
Skill Effect: 25% chance of ignoring 25% of enemy's defence. Ignore blessing.
Duration:NaN
Launch Timing:Auto
Requirements:NaN
Proc-rate:20%
Limitation:NaN
Chakra Consumption: 109 points
Description: Special Technique of the 2nd Hokage. Even in a place without water, it can still generate large amounts of water to crush even an enemy who has great defense power.
In game pic:\/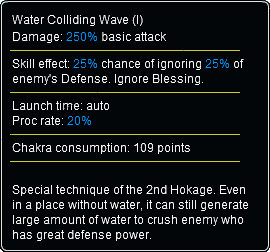 Community content is available under
CC-BY-SA
unless otherwise noted.