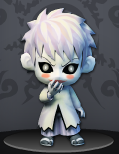 White Ichigo is Ichigo Kurosaki's hollowfied spirit, which resides in his inner world along with Zangetsu. He was created after the final encroachment of Ichigo's Chain of Fate.
Character Name : White Ichigo (Hollow Ichigo)(虚 (ホロウ)
Playable : Yes
Gender:
Male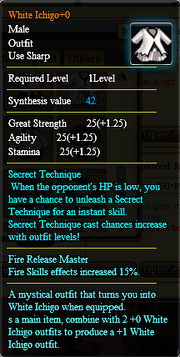 Outfit: Orange
Weapon: Sharp
Specialty: Fire
Stats
Great Strength: 25(+1.25)
Agility: 25(+1.25)
Stamina: 25(+1.25)
12 points of Great Strength increases 1% Attack and 1 point of Block.
14 points of Agility increases 1% Speed and 1 point of Dodge.
12 points of Stamina increases 1% HP and Chakra.
Skill: Fire Release Expert
Fire Release Skills effects increase 15%
Pockie Ninja Outfit Stat Sheet
Great Strength Agility Stamina
Suit Level +0: ║ 25 ║ 25 ║ 25 ║
Suit Level +1: ║ 35 ║ 35 ║ 35 ║
Suit Level +2: ║ 45 ║ 45 ║ 45 ║
Suit Level +3: ║ 55 ║ 55 ║ 55 ║
Suit Level +4: ║ 65 ║ 65 ║ 65 ║
Suit Level +5: ║ 75 ║ 75 ║ 75 ║
Suit Level +6: ║ 85 ║ 85 ║ 85 ║
Suit Level +7: ║ 95 ║ 95 ║ 95 ║
Suit Level +8: ║ 105 ║ 105 ║ 105 ║
Suit Level +9: ║ 115 ║ 115 ║ 115 ║
Suit Level +10: ║ 125 ║ 125 ║ 125 ║
Suit Level +11: ║ 135 ║ 135 ║ 135 ║
Suit Level +12: ║ 145 ║ 145 ║ 145 ║
Suit Level +13: ║ 155 ║ 155 ║ 155 ║
Suit Level +14: ║ 165 ║ 165 ║ 165 ║
Suit Level +15: ║ 175 ║ 175 ║ 175 ║
Suit Level +16: ║ 185 ║ 185 ║ 185 ║
Suit Level +17: ║ 195 ║ 195 ║ 195 ║
Suit Level +18: ║ 205 ║ 205 ║ 205 ║
Suit Level +19: ║ 215 ║ 215 ║ 215 ║
Suit Level +20: ║ 225 ║ 225 ║ 225 ║
Suit Level +21: ║ 235 ║ 235 ║ 235 ║
Suit Level +22: ║ 245 ║ 245 ║ 245 ║
Suit Level +23: ║ 255 ║ 255 ║ 255 ║
Suit Level +24: ║ 265 ║ 265 ║ 265 ║
Suit Level +25: ║ 275 ║ 275 ║ 275 ║
Suit Level +26: ║ 285 ║ 285 ║ 285 ║
Suit Level +27: ║ 295 ║ 295 ║ 295 ║
Pockie Ninja Outfit Stat Sheet
Edit
| Level | Great Strength | Agility | Stamina |
| --- | --- | --- | --- |
| +0 | | | |
| +1 | | | |
| +2 | | | |
| +3 | | | |
| +4 | | | |
| +5 | | | |
| +6 | | | |
| +7 | | | |
| +8 | | | |
| +9 | | | |
| +10 | | | |
| +11 | | | |
| +12 | | | |
| +13 | | | |
| +14 | | | |
| +15 | | | |
| +16 | | | |
| +17 | | | |
| +18 | | | |
| +19 | | | |
| +20 | | | |
| +21 | | | |
| +22 | | | |
| +23 | | | |
| +24 | | | |
| +25 | | | |
| +26 | | | |
| +27 | | | |